Sitefinity Licensing and Pricing Overview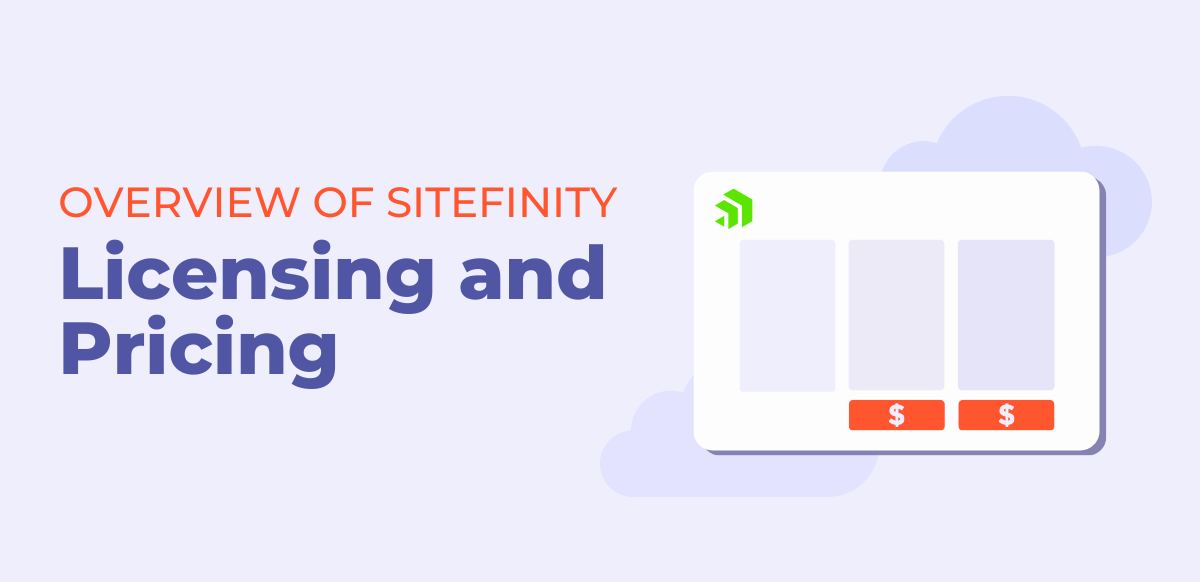 If you are looking to purchase a new Sitefinity License, then there are two packages to choose from, Sitefinity DX and Sitefinity DX plus Enterprise Package.
In this article (and video), we are going to take a look at the features of both of these options to help you determine which one is the best fit for your Sitefinity project. We will also share the ways you can get pricing for a Sitefinity license and how you can purchase your new license.
Sitefinity's Licensing and Pricing Table
We will frame this article around Sitefinity's licensing and pricing table that you can find on Progress.com.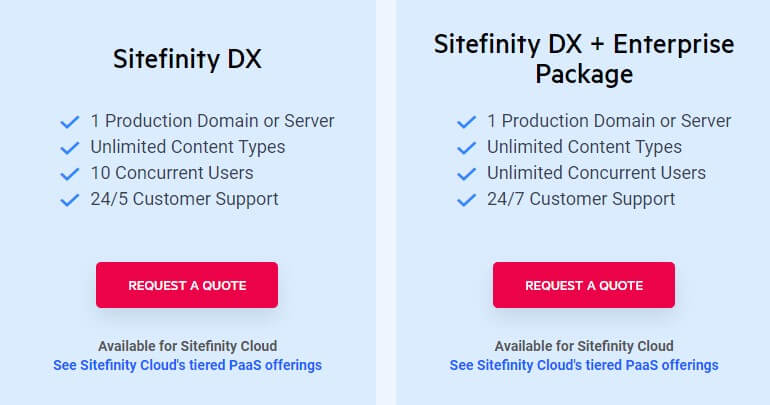 Under each license option, you will find the following high-level features listed. We highlighted the features that are different between the two options.
Sitefinity DX (the base Sitefinity license)
1 Production Domain or Server

Unlimited Content Types

10 Concurrent Types
24/5 Customer Support
Sitefinity DX + Enterprise Package
1 Production Domain or Server
Unlimited Content Types
Unlimited Concurrent Users
24/7 Customer Support
With the Enterprise package, you get unlimited concurrent users. You can add users to the base license option, but if you are a large organization that has many employees working within the CMS, then going with the enterprise option might make more sense.
Another feature of the Sitefinity DX + Enterprise Package that is different from the basic license (24/5 support) is the 24/7 Customer Support. With the Enterprise Support Plan, you also get 7-day bug fixing and custom on-demand patches, which means you won't have to wait till the next minor or major Sitefinity version is released to take advantage of bug fixes.
Let's move on to the other features of Sitefinity DX and the Enterprise Package.
Core Content Management Features Included in Both License Options
In both options, you have all the content management features included. These are all the core CMS capabilities you will find in many content management solutions on the market. You will have the ability to manage, create, and publish content. You also get headless content delivery, which allows your company to deliver content to multiple channels from one platform. Also included is multisite management, which gives your company the option to manage several websites from one content management platform.
The last feature under the content management section is developer and marketing productivity tools. This includes features like Sitefinity's drag-and-drop page building experience, media management, content organization, and dev tools that allow for project customization and expanding the functionality of your website. We wrote an article that goes into some of these features in more detail, specifically the features of Sitefinity that marketers love.
Experience Management Add-ons for Sitefinity
When you start getting into the experience management section of the Sitefinity license and pricing table, you will start to notice the difference between features included in Sitefinity DX and Sitefinity DX plus the enterprise package.
Both options allow for low code system integration and integration of data from other marketing and business systems. Also included in both options are tools like segmentation and customer journey tracking, which help you get a better picture of your audience.
This is where the add-ons will be considered when pricing out your license. The ability to test and optimize marketing campaign landing pages and other content on your site and the ability to serve personalized content and messaging to a specific audience segment is only included with the enterprise package pricing and licensing. But if you still want these options they are available to purchase as add-ons with the base SitefinityDX license.
If you are selling products directly from your website, you may want to consider the add-on for e-commerce. This add-on gives you full integration with Progress' e-commerce partner, Ucommerce.
And for AI-driven chat, there's a Chatbot add-on available with both the base and enterprise package license.
Third-Party Connector Add-ons
The next section is for third-party connectors, which gives you what you need to connect your website to your CRM. All these connectors are available as add-ons with the base Sitefinity DX license, so if you utilize a CRM like HubSpot and what to do things like capture data in HubSpot when someone fills out a Sitefinity form on your website or want to capture data in both Sitefinity Insight and HubSpot than purchasing the add-on might make sense for your organization.
Add-Ons that Extend the Functionality of Sitefinity
In this section, you have features like site translation and management, which is great for global organizations that want to offer site content in a person's native language.
Content synchronization, which is called SiteSync, is ideal for organizations that want multiple website environments, like dev, staging, and live sites. You can create content or make dev changes in one environment, like a staging site, and then sync those changes when they are ready to go live on your public-facing site.
The system audit trail provides a log of any changes made to your Sitefinity system so when errors occur, you have a log that helps to diagnose and solve these issues.
With Sitefinity DX, 10 users are included. If you want to add additional backend users then you can do that in 5-person increments or you have the option to pay for unlimited users as an add-on. The enterprise package has unlimited users included in the price of the enterprise license.
Both options come with 1 product domain or server included so if you want to add additional domains or servers then there is an add-on you must purchase.
You will only need to purchase this add-on for additional production domains. This might include a separate brand website that you want to move to Sitefinity, and any separate website that you plan on using Sitefinity's software to manage, edit, and publish the content on that site. You do not need to pay extra for non-production domains like dev, testing, or staging subdomains. An example of this would be dev.yourwebsite.com. The price of your Sitefinity License also won't change for domains that redirect to your main website domain.
Many companies purchase and own several domain names that are forwarded to the main website URL. These do not count towards the cost of your Sitefinity license.
How to Get Sitefinity License Pricing
To get pricing, you can request a quote directly from the Progress website, which requires you to fill out a form to have someone at Progress contact you.
Another option is to reach out to a Sitefinity Partner, like Smooth Fusion. Our team can go over the pricing for each license, calculate what you can expect to pay with any add-ons, and we can also provide you with the total cost of your Sitefinity implementation, which would include the total of your new license along with costs associated with project discovery, website design, and development.
We will also share what you can expect to pay every year when it comes to annual license fees and keeping your website up-to-date.
Hopefully, this gave you a good overview of the two licensing options available for Sitefinity. If you have any questions about any of these features or any other pricing or licensing questions about Sitefinity, then feel free to reach out to our team and we would be happy to walk you through it and help you choose the license and add-ons that make the most sense for your organization and website project.