Sitefinity Features that Marketers Love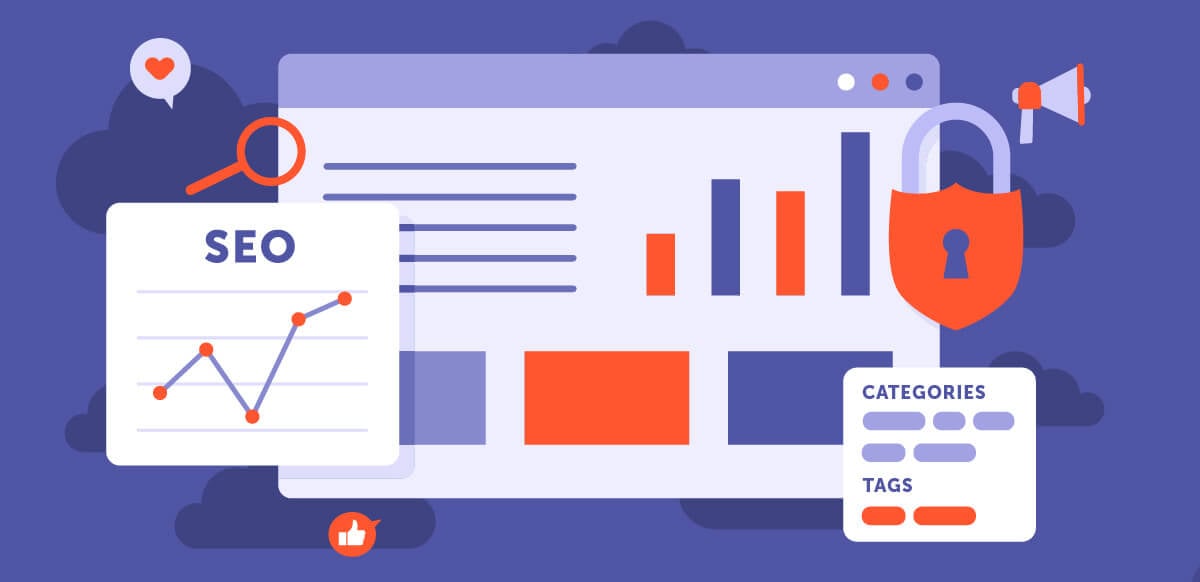 As a marketer in the age of digital experiences, you will spend a lot of your time working within the CMS (Content Management System) of your website. Your marketing team is likely spending most of their days creating content, building out pages, and battling for high search rankings with a goal of driving users to your site and converting leads for your business. Therefore, it is important to have a CMS with tools and features that will support and help drive your marketing programs and initiatives. Features matter to marketers. We want useful, easy-to-use, and intuitive features in a CMS that make our work more efficient. As a marketer who uses Sitefinity CMS daily, here is a list of the features that I find very useful.
Build Pages Quickly without a Developer
Since creating great content is important to a marketing strategy, it is essential to have a CMS that makes creating and publishing content easy.
Sitefinity offers intuitive content creation, drag-and-drop layouts, form builders, and simple editing without the need for code. There are also customizable widgets that allow marketers to spin up pages fast without the need for any help from developers. To demonstrate, we created a video series that shows how easy it is to build a page in Sitefinity.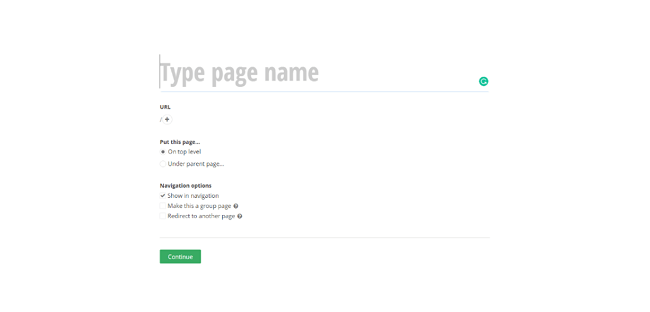 READ: See how Smooth Fusion helped Biamp content editors to build pages on the fly.
Creating Blog Content is Simple
I have seen many content management systems make blogs and blog features an afterthought. But blogs are a vital component of marketers' SEO content strategies. We spend hours every week pumping out great content - and having a CMS that makes creating and publishing this content easy makes our jobs a whole lot easier.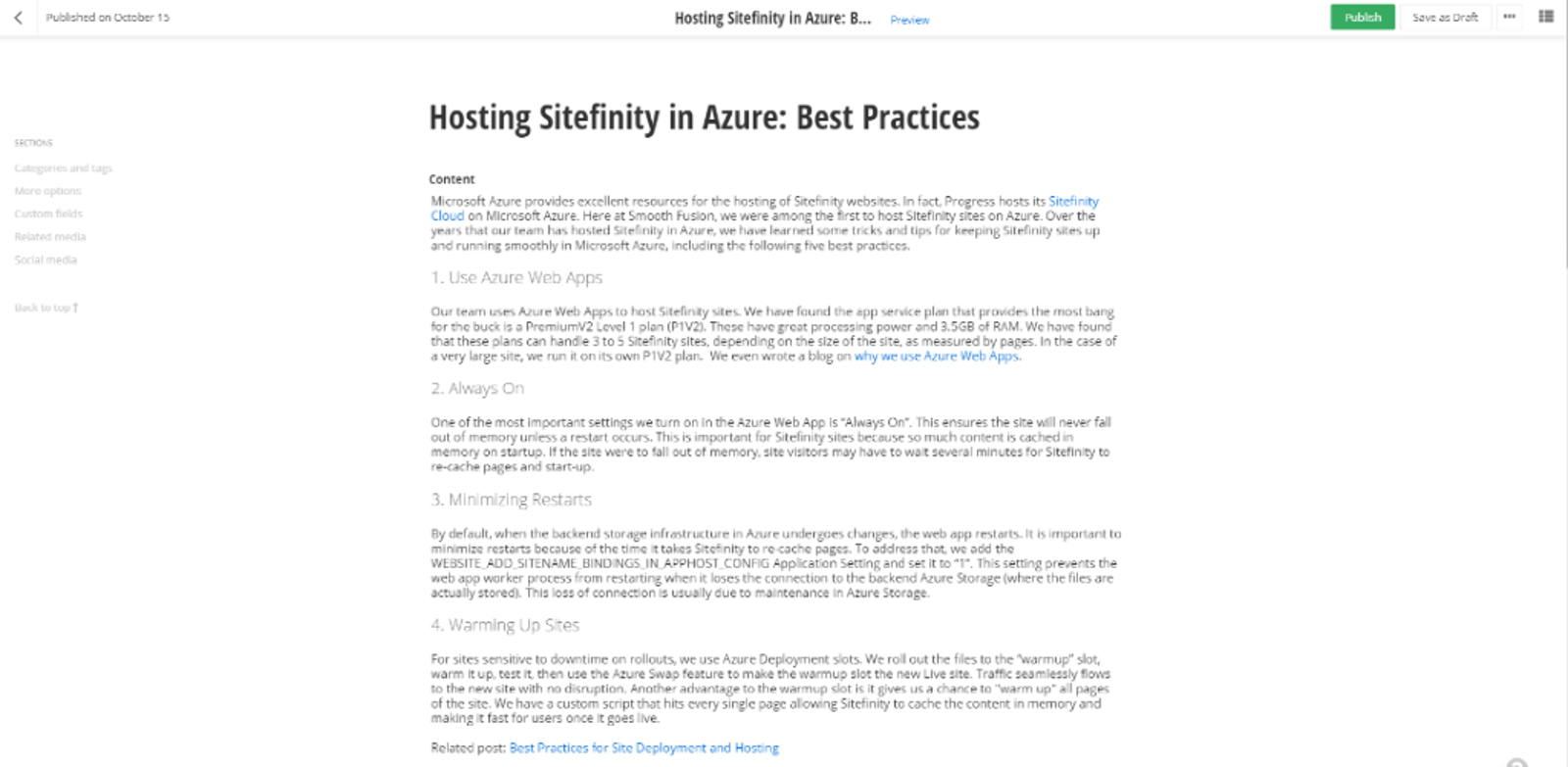 Sitefinity has a WYSIWYG rich text editor, so you can paste in your post or can begin writing right in Sitefinity and save it as a draft to come back to later. Options for styling and formatting are available directly in the editor as well -- and it is easy to add links, whether it's linked to other pages on your site or external reference links.
Categorizing Content with Classification
Ensuring the content on a site is organized is extremely important as your website grows. Content like images, blogs, and documents can be easily categorized with the use of tags. On our website, we have Sitefinity content, like our blog articles that are specific to the Sitefinity CMS platform, and also have blog articles that address topics like hosting, deployment, or QA (Quality Assurance).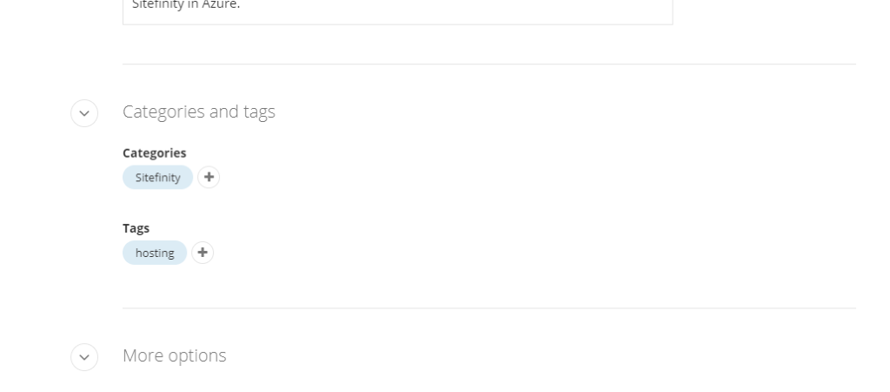 As an example, we recently posted an article titled, Hosting Sitefinity in Azure: Best Practices. In the blog settings, we designated "Sitefinity" as the category and "hosting" as the tag. If we had a page about Sitefinity Hosting and I wanted to include a blog widget that only showed blogs in the Sitefinity category that are tagged with hosting, then it would be easy to do so.
Workflows and Publishing Content with SiteSync
Another notable feature that we use a lot is workflows. There is a good chance that you have multiple people on your marketing team creating pages and adding content to your website. When it comes to reviewing and publishing that content, Sitefinity has workflows that require your content writers to send a completed page for approval before it goes live. Collaboration in the content creation process is important and Sitefinity makes it easier for your marketing team to work together.
SiteSync is an especially useful tool for pushing content from a dev or content-authoring environment to a live environment. There are benefits to having multiple environments for your website. One benefit is a dev environment allows you to test and review content before it goes live.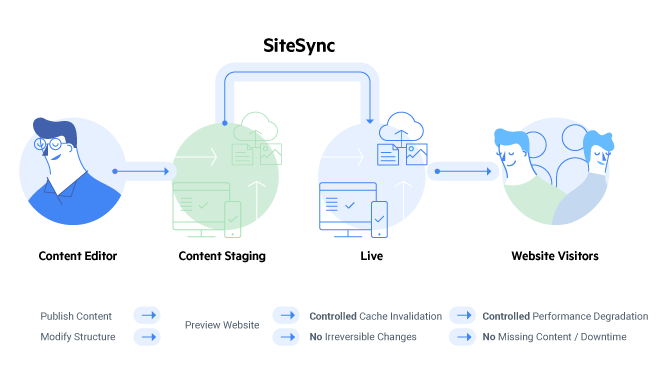 Image from article Content Promotion in Sitefinity: Best Practices for Setting Up and Operating SiteSync.
With SiteSync, you only need to focus on keeping one environment updated. After content is reviewed and tested, you can push that content to live with a simple click of a button.
SEO Management
SEO page titles, headings, descriptions, and image alt tags are the standard for most CMS platforms, but Sitefinity makes it easy to edit these on-page SEO attributes in the editor or page properties and settings. We created a Technical SEO Guide for Sitefinity CMS because we believe the SEO success of your site is that important.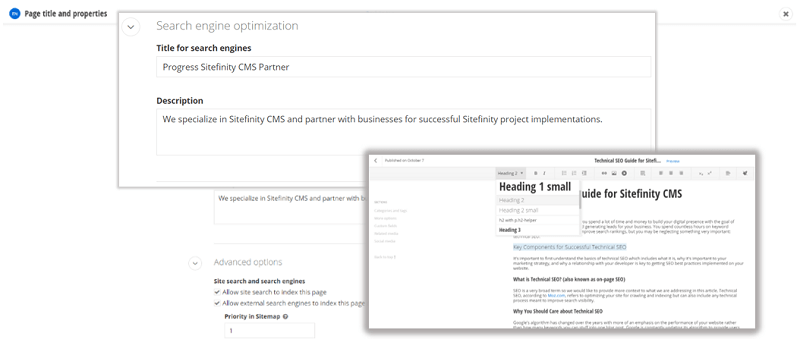 Some other notable features that can improve SEO are sitemaps, which Sitefinity can automatically generate and submit to Google and Bing, management of redirects, and canonical URL management.
Managing Multiple Websites
With the complexity of online experiences, marketers have a lot on their plates. That is especially the case with marketing projects that affect multiple sites and channels. Managing multiple sites on multiple systems can take a lot of time, and it makes your team less efficient. Sitefinity's multisite content management system makes it a lot easier to manage multiple brand sites. Multisite gives marketers the ability to manage many sites from one CMS instance.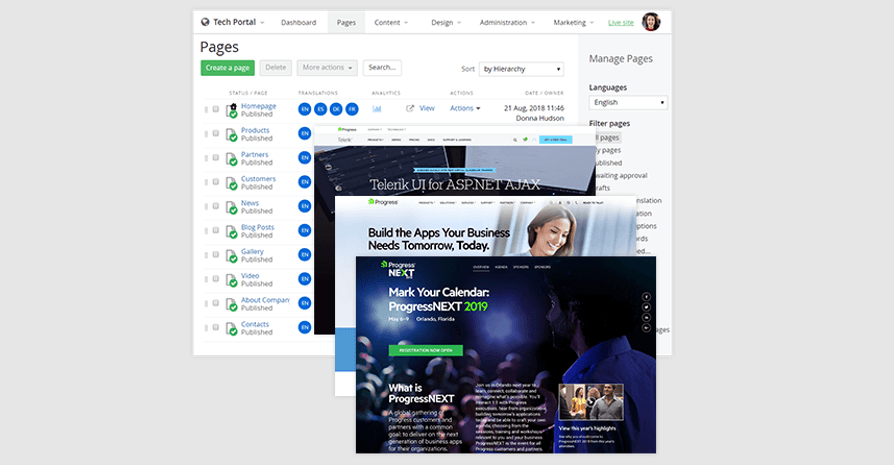 Multisite is great for companies that have complex organization structures with multiple brands that require different websites with their own content and configurations. If your company has different teams or individuals that require access to these sites, permissions for each site can be managed in settings.
Content Personalization
Websites aren't just another piece of marketing collateral for your brand -- your website is an extension of your sales team, your customer support, and your organization. It's a place where your prospective customers are not just informed about your company and the products and services you offer, but it's a place where they learn and engage, and experience your brand online. Especially with the forceful push from the coronavirus pandemic, companies are focusing on how to provide the best digital experiences for their customers. A big part of creating these great online experiences is the ability to get the right content in front of the right person with personalization.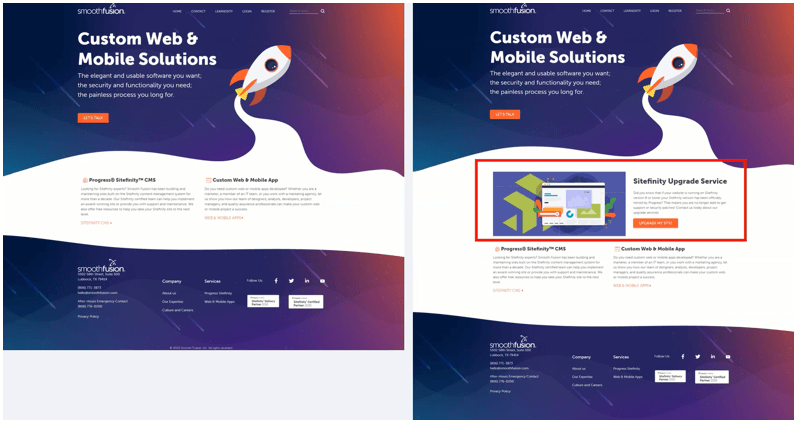 Using Sitefinity Insight, marketers can create personalized site experiences based on actions visitors have taken on their site. Personalization is so powerful because it serves content to your visitors that are most relevant to them. No one does this better than Amazon. The experience I have on Amazon is unique to me because the items that I see are based on my preferences, buying history, and other actions are taken on their site. Your site may never utilize personalization to the level of Amazon, but we recently did a video series on personalizing Sitefinity content, and our example of content personalization is something that can be easily implemented on your site as well.
Driving and Converting Leads
Even the best content management systems won't drive leads to your website on their own. So, it's important that the CMS you use as a marketer has all the tools and integration capabilities needed to drive qualified leads to your sales team.
I'm a fan of HubSpot and it's also the CRM tool we use at Smooth Fusion. Having a CMS that works well with our HubSpot CRM is important. The great thing about Sitefinity is its built-in connectors to HubSpot, Eloqua, Marketo, Microsoft Dynamics, and Salesforce.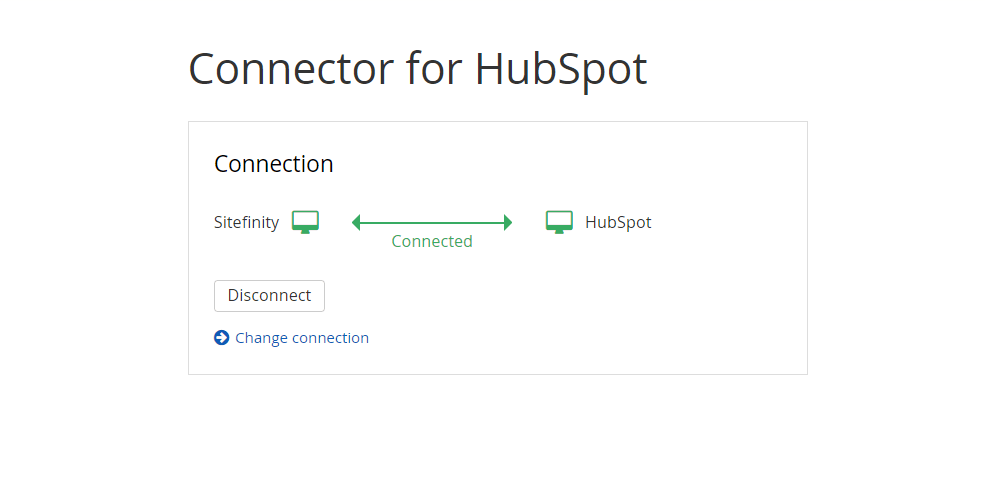 We can still utilize the forms module in Sitefinity, which mimics our site's branding and styling, but we can map the form fields to a form in HubSpot, which captures the data and stores it in HubSpot for future marketing campaigns. Not only can we send the form data to HubSpot, but by using Sitefinity Forms, we can also send form data to Sitefinity Insight, which allows us to use this data for personalization on our website.
Growing your Site as Your Business Grows
This is not so much a feature as it is a benefit of using a CMS like Sitefinity, but it's one that marketers shouldn't ignore. With Sitefinity, you don't need to spend additional money every few years for a "site rebuild" because your site can be built to scale. New widgets, enhanced functionality and capabilities, and a design refresh can all be achieved without having to start your website from scratch.
To help better understand this new concept of developing websites you can read our article, Your Sitefinity Site is Your Top Business Location, which helps move beyond the old way of thinking of your website as just another marketing channel, to the new way of treating your website as a touchpoint in the overall digital experience that you provide your customers.
Security, Bug Fixes, and CMS Enhancements
Progress comes out with a few minor upgrades and one major upgrade every year for Sitefinity. Each release includes enhancements to the platform and any bug fixes. Marketers shouldn't have to worry if the CMS they are using is secure, which is why Progress releases patches to address any new possible threats to security.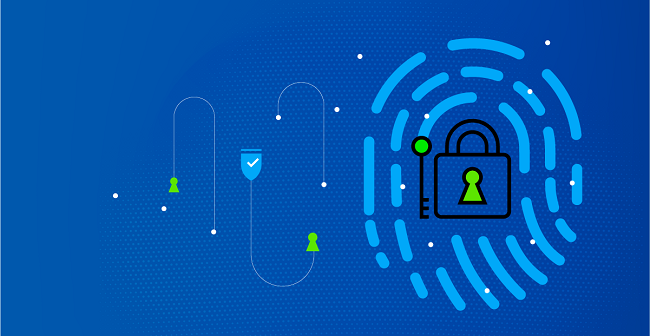 Read from Progress.com: Sitefinity Security: Don't Play Catch Up. Stay Up to Date
Between major releases, Progress has teams working with Sitefinity users and partners to identify areas, tools, and features that would be beneficial to marketers. Just like your business makes efforts to gather customer feedback and see where improvements can be made to products and services, so does Progress, and I think they do a good job at this.
We Want to Hear from You
What Sitefinity features would you like to learn more about? Let us know what resources we can provide to make your job easier. We would be happy to demo any features of Sitefinity that you would like to see in action, and we can introduce you to Smooth Fusion customers who have found marketing success with Sitefinity.