Factors That Impact the Cost of a Website Project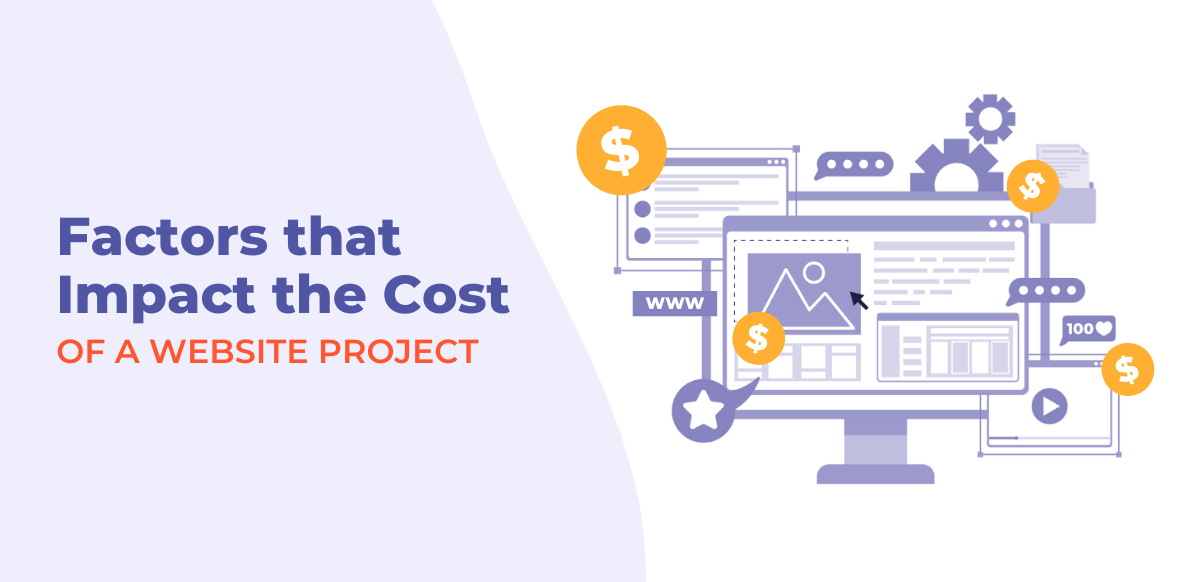 Before starting a website project, nearly everyone involved has one thing on their mind, "How much is this going to cost?"
The reality is, it's not easy to nail down an exact dollar amount for a website project because there are many factors that impact the cost of a website — and in this article, we are going to dive into each.
The Size and Complexity of the Website
Obviously, a simple website with a few pages will generally be less expensive than a large website with many pages...especially if there are many pages with different layouts and functionality.
But size alone isn't a good indicator of cost, since small websites can still be complex or be built on more expensive software.
What makes a website complex?
Let's start with what makes a website simple. A simple company website is usually informational-only and will have a contact form that allows users to get in touch with the business. It typically won't have advanced marketing capabilities, extensive features, or custom UX/design.
A complex company website will have more features, and capabilities, and custom elements that allow users to interact or engage more with a brand. An example of a complex company website is one that has e-commerce functionality or has integrations that allow the company to use visitor data to do things like personalization. Generally, more features — especially ones that are custom and advanced— will make a website more complex.
Design Complexity
The complexity of the website design plays a significant role in determining the cost. A simple, minimalist design will generally be less expensive than a complex, custom-designed website with intricate graphics and animations.
Technical Complexity
Complex functionalities such as database integration, API integrations, payment gateways, security measures, or advanced programming requirements can increase the cost due to the expertise and development time required.
Another thing to consider when it comes to website complexity is the merging of multiple websites. When companies choose to merge several brands or business sites into one, there is another layer of complexity that web project teams need to consider. This is common with mergers and acquisitions. Finding a website developer who understands these scenarios and has a process for handling merging websites is important for overall project success, but this will typically cost more due to its complex nature.
The Level of Customization
A website that is highly customized will be more expensive than a website that uses a pre-made template. Templates are usually designed by a website designer and are built by a front-end developer. If your company wants page templates that are unique, then this will cost more than a website that has prebuilt templates included.
Customizations can also include:
Branding: colors, fonts, and overall visual design

Layout and structure: arrangement of website elements

Navigation: custom menu structure or functionality
Custom page templates
Dynamic content display
Custom integrations
There are endless ways to customize your website. Of course, the amount of customization depends on the custom capabilities of your CMS software and the expertise of your development team, but there are many creative ways to extend the functionality of your site if that's what you want.
Site Functionality and Features
The more features and functionality you require for your website, the higher the cost is likely to be. Websites that need e-commerce capabilities, user registration, advanced search functionality, interactive elements like chatbots, or any integrations with third-party services will generally cost more.
Other features like advanced marketing tools that offer personalized experiences for site visitors or track user engagement will also increase the upfront costs of your project. It's also important to note that these marketing tools usually come with increased license costs or require ongoing payments to use the software.
The Experience and Expertise of the Developer
The more experienced and skilled the developer, the more expensive they will be. However, it is important to remember that you often get what you pay for. A more experienced developer will be able to create a better website that is more likely to meet your needs and exceed your expectations.
If you are building your website on a specific content management system, it's also important to work with a developer who is specialized in that platform, although doing so also comes with an increase in cost.
As an example, our developers have a lot of experience and expertise with Progress Sitefinity. So, if you have a website built on Sitefinity CMS or are wanting a redesign on the platform, then you should expect to pay more for a Sitefinity developer than one that's an expert in WordPress. The reason for this is that it's generally harder to find an experienced and reliable Sitefinity developer than it is to find one that understands a more widely-used CMS like WordPress.
Geographical Location of the Development Team
Another contributing factor to cost when it comes to developers is where they are geographically located. If your company is in the US but working with a developer in another country, then it may cost less. This of course depends on things like market demand and labor costs. If you get an estimate for a website project that is considerably less than others, it could be they are utilizing offshore developers or contractors.
In-House vs. Freelance/Contract Developers
Another factor that could have an impact on the cost of our project is the use of development partners, freelancers, or contractors. Always ask prior to working with a website development company if they plan on using development partners or contractors and if they do, ask if their estimate takes that into account.
The Cost of Your CMS or Web Platform Software
Most websites are built on a content management system or other website platform.
A Content Management System (CMS) is a software application designed to simplify the creation, management, and publication of digital content. It serves as a centralized platform, enabling users to author, edit, and organize various types of content such as text, images, videos, and documents without the need for extensive technical knowledge.
There are open-source CMS platforms and proprietary CMS options available.
If you want to build your website on a proprietary CMS, like Sitefinity, then you will have to purchase a Sitefinity license. If you want to build your website on a platform like WordPress, then there is no license cost, but you will still need to consider other costs like hosting, development, and design.
Content Development or Migration
Some companies handle content on the site which includes adding images and written text but if your company is wanting this done as a part of the website project, then they can expect to pay more.
There are two different parts of this, and each is different when it comes to cost:
Content development
This is the cost of having an agency write the copy, create images/videos, or create graphics for each page on your site. This is an option for companies who want to completely overhaul (or rewrite) copy on their site and will almost always increase the price of your website project.
If you provide the content yourself, it may reduce the cost compared to hiring professionals to create high-quality content.
Content population
Regardless of who generates copy and other content for your website, populating a new website with content can be a major effort. Even in cases where you already have a website and are happy with the copy, images, and other graphics, the content must still be migrated to the new site.
When you build on a CMS, you have the option of populating content yourself or sharing the load of the content population with your web developer. Some development partners, including Smooth Fusion, have a page-building team to help build out web pages and with populating content at rates that are lower than standard web development rates. However, having your team share the burden is the primary way to reduce the cost of page building and content population.
Project Timeline and Urgency
The timeline and urgency of the project can also affect the cost. Tight deadlines or the need for expedited development may require additional resources, which can lead to higher costs.
It's not uncommon for website developers to be working on a few projects at once. Some development companies will offer a dedicated developer, which usually means they will only work on your project for an agreed-upon time or until project completion. Having dedicated developers usually means quicker turnaround, but it also costs more too.
The Cost of Hosting
The cost of hosting a website will vary depending on the type of hosting you choose and the amount of traffic your website receives.
There are many low-cost options available if you need a hosting solution for a basic website with minimal resource requirements but when hosting a company website, you will want a hosting solution that can handle higher traffic and one that has advanced features to keep your site secure and improve overall performance.
Whether you choose shared hosting or dedicated hosting will also affect ongoing website costs. Shared hosting is more affordable but dedicated hosting can be a better option for large company sites that get a lot of traffic and use a lot of resources.
It's important to know that hosting is much more than just a means to serve your site to users. For large companies, you really want something that offers a breadth of services.
As an example, Microsoft Azure offers a wide array of cloud services that encompass infrastructure, platform, and software-as-a-service (IaaS, PaaS, and SaaS) models. Azure provides businesses and developers with the tools and resources necessary to build, deploy, and manage applications and services on a global network of data centers. Azure is what we use to host our client sites built on Sitefinity.
In the case of Smooth Fusion, we offer our customers fully managed cloud hosting that puts the burden of monitoring and management on us.
The Cost of Ongoing Maintenance and Support
Just like with hosting, it is important to consider the ongoing maintenance and support requirements for your website. Once your website is launched, you will want to work with a developer to keep it up to date. This may include regular updates, bug fixes, security patches, or technical support.
Although you won't pay for these services until after your website is launched, it is important to consider the cost of ongoing maintenance and support prior to starting a website project.
One way to determine this is by asking your developer for a range that the average customer annually spends on ongoing maintenance and support.
Companies that do the minimum when it comes to ongoing site maintenance (bug fixes, security patches, basic updates, and support) will spend less but companies who truly want to keep their website fresh by improving the functionality and user experience can expect to pay more since these improvements will typically include designer, developer, and project management involvement.
Find the Right Website Partner for Your Project
It is important to note that these factors can vary depending on the specific requirements of your website project and the web development company you work with. And this isn't an exhaustive list of all the factors that are in play when it comes to the overall cost of a website—there are other factors not covered in this article.
Because there are so many variables involved in designing and building a website, it is often hard to get an apples-to-apples comparison when speaking with multiple partners. Partners may interpret your requirements in different ways that can lead to widely varied cost estimates.
We recommend you find a partner you feel comfortable with and ask what hourly rates they generally use when estimating costs, and whether they have project minimums that could come into play. Beyond that, focus on the level of expertise you are getting. Also, ask how the partner charges for ongoing support and maintenance.
Read this related post: Cancel that Sitefinity RFP (And Do This Instead)
Knowing how rates compare between partners, how their expertise varies, and how the engagement will be structured after your site is launched are more important factors to weigh than simply an up-front cost estimate. Select a partner with a process and approach that makes sense to you.
It is also always recommended to discuss requirements in detail with potential developers and start with a thorough discovery engagement prior to starting development so you can get the most accurate estimate for your website project.