Cancel that Sitefinity RFP (And Do This Instead)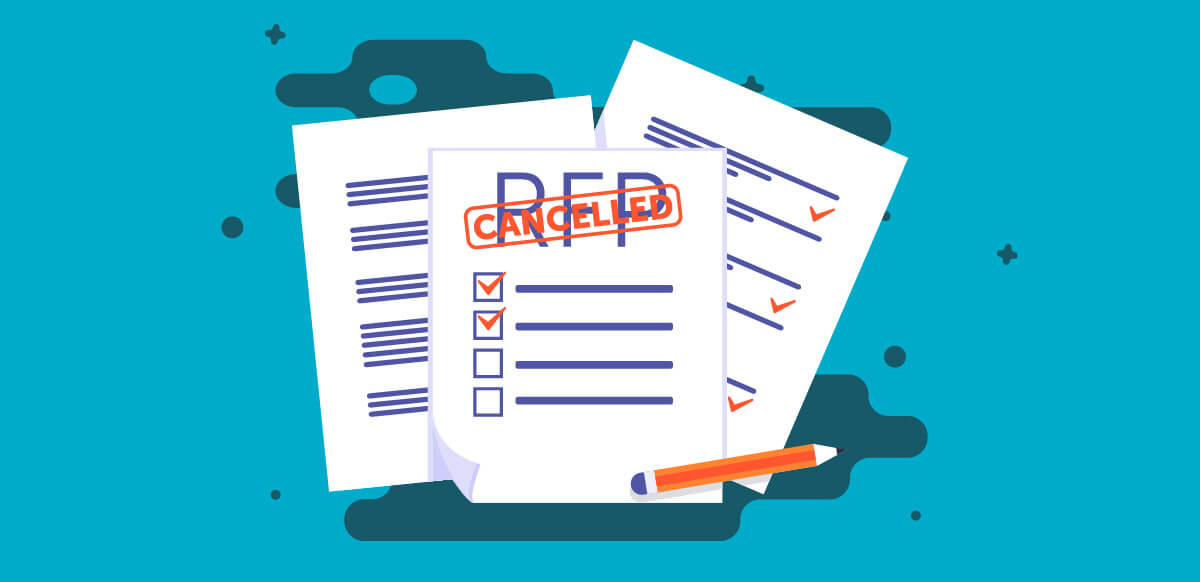 Most, if not all, Sitefinity Partners dread responding to requests for proposals (RFPs). In fact, most agencies of all types dread RFPs and often blog about why they hate them. But if you are the person searching for a Sitefinity Partner, reading complaints about RFPs from the perspective of the responder is not very helpful.
The Sitefinity community is a friendly ecosystem that includes great Sitefinity Partners. We want you to find the Sitefinity Partner that is right for you. This post proposes a more effective way for you to find the right Sitefinity Partner without putting yourself or others through the typical, and often ineffective, RFP process.
Are you looking for a vendor or a true partner?
Our team, like most Sitefinity Partners, longs for those relationships where we can confidently say that we feel like partners. Over the past two decades of serving customers from coast to coast, we have had many great partnerships. Some customers, however, are not looking for a partner; they are just looking for a vendor.
We received an RFP once that demanded a most favored pricing agreement, meaning we would be contractually obligated to always give them the lowest rates that we give to anyone, including non-profit entities to whom we often give special low rates. I know that most favored pricing agreements are common when selling commodity goods and services—which is exactly my point. Designing and implementing a Sitefinity website is not a commodity service. The last thing you want is a commodity provider. The company who issued that RFP was looking for a vendor, not a partner.
A good Sitefinity Partner wants to know your business, your brand, your customers, your budget cycles, your metrics, and your goals. And a good Sitefinity Partner will come to you and say things like "Sitefinity released a feature that you are going to love" or "a member of our team had this great idea for you." Isn't that the kind of Sitefinity Partner you want?
At best, an RFP may help you find a qualified vendor. It is difficult to find a true partner through an RFP. In fact, the team that can be that partner to you may not even respond to RFPs.
Would you rather ask questions, or find a partner who asks great questions?
I don't remember ever hearing anyone say "our RFP brought out some really groundbreaking thinking."
Discussions are infinitely more valuable than proposals. The key to arriving at the best solution that achieves your goals and fits your budget is collaboration with the right partner.
Regardless of how much work you put into an RFP, it is just not the right vehicle to encourage creative and innovative solutions and approaches. It is arrogant for a Sitefinity Partner to think that an RFP can provide all they need to know to arrive at the best solution for you, and it is unfair to expect you to have anticipated all that we need to know.
In the absence of conversation and collaboration, the proposal becomes predictable, inaccurate, templated, boring, and unhelpful.
"Discussions are infinitely more valuable than proposals."
Can an RFP produce apples-to-apples comparisons?
The responses you receive to an RFP can generate data that could allow for some apples-to-apples comparisons. But there are likely more oranges lurking beneath that data than you know.
Even given the clearest description of requirements, Sitefinity Partners will vary in how they approach a solution or implementation. Often when we are responding to an RFP (and yes, sometimes we do respond to RFPs) we see multiple approaches that we could take to meet a stated requirement. However, without further discovery we really can't know which approach is best. And submitting our questions for the vendor call rarely gives us the detail we need. We then have to decide whether we should make assumptions that result in the lowest cost (probably the smart approach in an RFP), or make assumptions that are probably more likely what the customer is going to want (which could make our bid higher than our competitors). The only sure thing is that you are going to get back proposals that make different assumptions, and you probably won't know the rationale behind the wildly varying bids.
The truth is, if you have ever had to choose a partner based on RFP responses, you know the responses raise as many questions as they answer. By the time you are selecting a winner, you feel overwhelmed and your confidence in your choice is often low.
So what should you do in place of the RFP?
Are you ready to find a true partner and not just a vendor? Do you want a partner who asks great questions, communicates with you, and generates innovates solutions? Would you rather not be overwhelmed with the task of comparing proposals that are full of incorrect assumptions? If so, then I propose the following:
Step 1: Gather Good Information
Replace your request for proposal (RFP) with a request for information (RFI). In your RFI, you won't need details about your project. In fact, you won't even need to share a whole lot of information about your company at this point. Point the potential Sitefinity Partners to your website and then cut straight to requesting some information about them. You want to learn about the Sitefinity Partner's team, their experience, and their expertise.
Here are some examples of questions you probably want to ask:
Does the team have the creative capabilities that you require?
Do they have the technical capabilities that you will require, especially if your site includes integrations or requires custom modules?
Can they make a convincing case that they are truly both creative and technical?
Do they actually complete the Sitefinity implementation with an in-house team?
Are their developers Sitefinity Certified?
Is the Sitefinity Partner a thought leader in the Sitefinity community?
What are their rates and options for structuring engagements?
Step 2: Schedule Meetings
Using the information that you receive from step 1 above, pick your two or three favorite potential Sitefinity Partners and schedule informal meetings (preferably with video if meeting remotely) to get to know each other. You will learn a lot about whether you can see yourself working with them. Make sure you ask whether the people in the meeting are the people you will be working with after you sign an agreement. And if there are senior personnel in the meeting, ask what level of involvement they will have. This is also when you broach your concerns so that you can measure their responses. And, of course, this meeting gives you the opportunity to clear up any questions you have from their RFI response.
You want to come away from this meeting knowing whether these are people you can trust with your site and whether you would enjoy working with them. Does this team feel like they want to be your trusted partner?
Step 3: Talk to References
Ask the potential partner for references of at least two or three customers with whom they believe they are trusted partners. If you are looking for a similar relationship, then you can learn a lot from those customers. Make sure these are Sitefinity customers, as many Sitefinity Partners work with multiple technologies.
When you speak to customer references, focus on responsiveness, reliability, technical competence, and overall satisfaction. Is the Sitefinity Partner helping them meet their needs as an organization, or just "doing what the client asks?"
Also, ask each potential partner to give you at least two names of individuals at Progress who can speak to the level of experience and to the reputation of that partner. And then, of course, when you call those people at Progress, ask about all your finalists.
Step 4: Finally, Look for Project Fit
If the potential partner is still being considered after the RFI, the informal meeting, and the reference check, then it is time to determine their suitability for your specific needs. Now is the time to schedule another meeting to dig into the details of your specific project.
At this point, it is not about determining who is a good potential partner—hopefully you have at least two who have proven themselves capable, who have satisfied customers, and who you feel you could work with effectively. So now you are looking for the partner who best fits your needs.
For example, if your project is a design and build (or rebuild), this is the time to discuss the details of that process and judge whether their approach that fits your project and budget (more about budget below).
If you are looking for a Sitefinity Partner to take over maintenance and enhancements on an existing site, make sure you choose a team that is experienced with maintenance and that has processes set up for providing ongoing support and maintenance, including capabilities for 24/7 emergency response.
By taking this four-step approach, you have cleared the way to make a final selection with a high degree of confidence, and hopefully find a team that will become a trusted partner.
A Note About Budget
Budget fit is a big part of any business decision. But one of the great things about this four-step process is that it takes the emphasis off budget until you know which partners have the potential to deliver and work well with your team.
Obviously, you probably want to get a rough idea of a partner's fees during the RFI step. If a partner has rates that you know won't work with your budget, eliminate them early. While you will find that Sitefinity Partners do vary in cost, generally the range is not too wide when you are talking to the best teams. Regardless of the types of billing arrangements and pricing structures offered, most Sitefinity Partners have hourly rates that are the basis for their pricing.
Remember, an experienced team will be more efficient, so consider that when judging hourly rate. And while offshore teams will almost always quote lower rates, if you go that route, make sure that you have confidence that the partner meets all your criteria and can work efficiently. Any team quoting low rates but taking longer to produce work, or producing low-quality work, may actually come at a higher cost.
Once you have found partners that you connect with, that have Sitefinity Certified Developers, extensive experience with the platform, and that check off all your other boxes, cost may end up being a major factor in the final decision. But by following this process, you won't be overwhelmed when it is time to make that final selection. And you won't have to read a bunch of boring RFP responses.
Let Smooth Fusion Help Regardless of the Partner You Select
We know Smooth Fusion is not the ideal partner in every scenario. But we do strive to provide more helpful content than any other Sitefinity Partner. So please come to www.smoothfusion.com often and make use of the resources we provide. And be sure you
subscribe to our Sitefinity Satellite newsletter
.