11 Ways to Use Website Notification Bars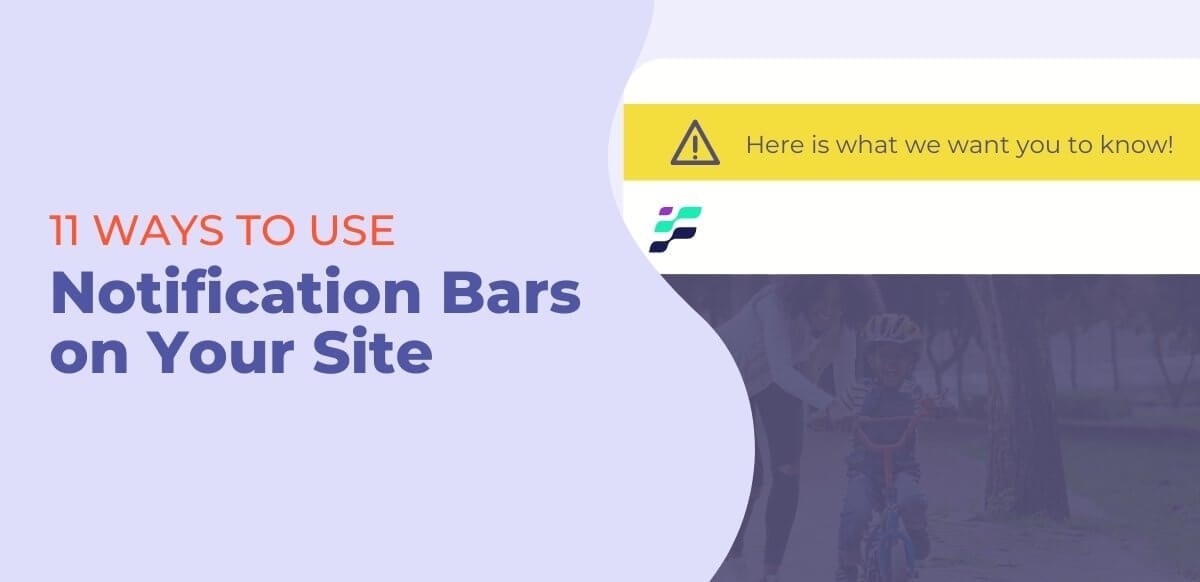 When you need to communicate something urgent to the visitors of your website, notification bars or banners at the top of websites have become an effective way to ensure that users of your site see important announcements.
What is a Website Notification Bar?
Website banner notifications—also commonly referred to as notification bars, banner alerts, or announcement bars—are located at the top of a website and are used to share information with users or notify customers about product discounts, promotions, CTAs, or any critical business news that may impact them.
Banner alerts are different from pop-ups. Most people find pop-ups to be annoying because they are often obtrusive. Banner notifications give users the information while still allowing them to do what they are doing.
A website notification banner can be present as soon as someone reaches your website, or you can configure it to display after they have been on your website for a set amount of time or only have it show on specific pages.
Use Cases for the Top Banner Notification Bar
In this article, we will share ways that you can utilize a top banner notification bar on your website and we will also provide some examples of companies that are using banner notifications effectively to inform their customers and site visitors.
Highlight Discounts and Promotions
If you have an e-commerce website and have a sale going on, the banner alert is a great way to notify users when they land on your site.
Notification banners that highlight a current promotion will often include specifics like what the promo is, how a customer can take advantage of the promo (maybe a code to enter at checkout), and when the sale ends.
Cabela's uses its top banner notification to highlight current sales in progress.
The message reads, "Outdoor Traditions - Shop Now" which links to their sales event landing page.

Inform Customers of Changes to Shipping Information
In the last few years, this banner notification has been used when supply chain disruptions impacted many companies' ability to fulfill orders on time. In efforts to be transparent, companies found that adding shipping information to the top of their website in a notification bar helped to not only inform their customers but set expectations for how long it would take for products to arrive.
On this demo site for our DXFusion platform, we created a banner notification that notified visitors about delays in shipping and order fulfillment due to supply chain issues.
The message reads, "Due to supply chain issues, you may experience some delays in receiving your order. LEARN MORE" with a link to additional information.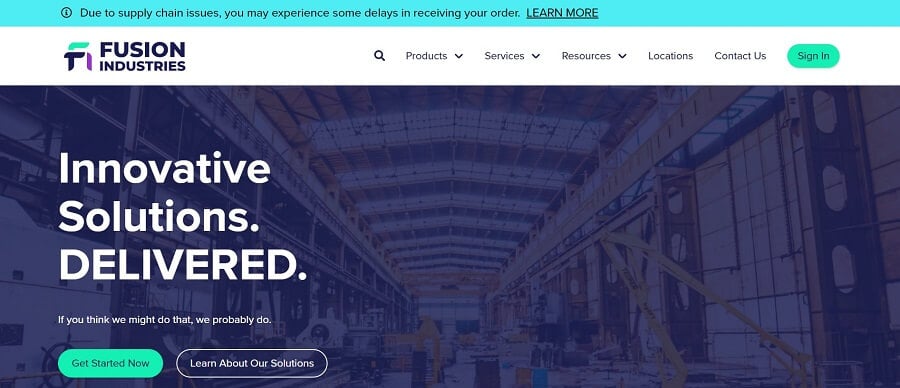 Increase Conversion Rates with CTAs in Notification Banner (with HubSpot)
Getting customers to sign up for newsletters, webinars, or training can be challenging. Using website banners for a call to action (CTA) like these are less obtrusive than using pop-ups yet they still get the attention of site visitors.
Your content management system may have a process for adding this to your site, but we also found an easy way to add these notification bars to the top of your website with HubSpot.
When creating a new form in HubSpot, you can choose the type of form you would like to create. One option is a Dropdown banner form, which does what it says and drops down from the top of your website.
You can customize your dropdown banner with a callout text and button or CTA. and link the button to a form step, non-HubSpot URL, HubSpot page or blog post, file download, meeting link, or calendar invite.
Typically, you will find these CTAs are linked to a landing page on a website with a form.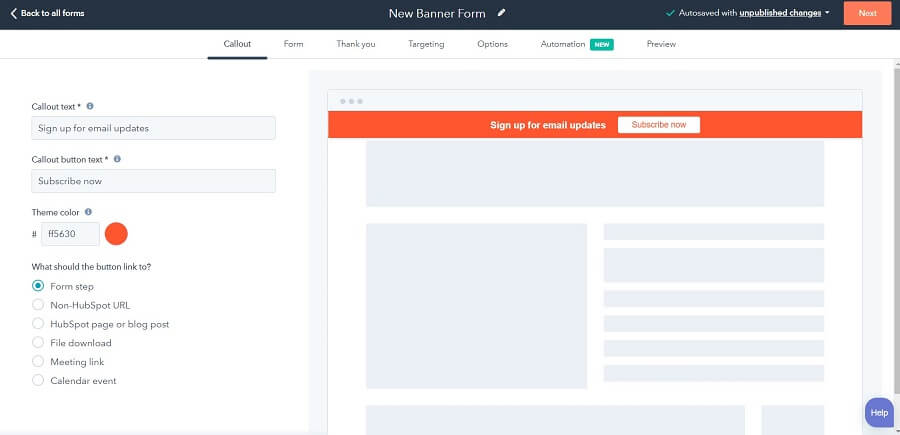 Notify Site Visitors of Scheduled Site Maintenance
Regular site maintenance is common and can cause partial or full site outages for a period of time. When you have scheduled site maintenance, it is always a good idea to let your customers know ahead of time, especially if they rely on your site to get things done.
Even if there is a slight chance that user experience can be affected, it would be user-friendly to publish a notification bar message that indicates the day and time that the site could possibly be impacted.
If your website doesn't go offline and user experience hasn't been impacted, then you exceeded your customers' expectations. If an issue does occur during maintenance, and your site does go down, at least your customers won't be confused as to why. What is more frustrating than a website being down? Not knowing why it is down or not being able to plan for a potential site outage.
Kaplan provides educational and training services for colleges and businesses, with many training materials available online, it is important that users can access their website 24/7. But when websites need maintenance, users can experience some downtime. (doesn't always mean they do though) To be proactive, Kaplan created a top banner notification to let site visitors know that their site may be intermittently unavailable.
The message in the notification bar states: "Our site may be intermittently unavailable on 9/29/22 from 8pm - 11pm CT for maintenance. We apologize for any inconvenience."

Alert Customers of Security Breaches or Vulnerabilities
This is information that no company wants to tell their customers, but it is critical, and it is important to use every communication means necessary to alert your customers.
When a security breach or vulnerability is detected that can potentially impact your customers, a good place to have this information is on your website. And instead of burying this information, a more proactive approach is to notify them with a banner alert.
An even more proactive approach is to help your customers before a breach or fraud even occurs by using the notification bar to share tips that help your customers stay protected from any types of scams or fraud.
The message in the top notification bar states: "Fusion Financial will never ask you for your account information or PIN. If you ever receive a suspicious call, email, or text then contact us immediately. Learn how to protect yourself from fraud."
There were two links added in this notification bar. One link was to the contact us page and the other link was to a blog article that provided tips to protect their customers from fraud.

Share Important Company News
Not that all company news isn't important, but there is some news that has more impact on customers than others.
Maybe your company was just acquired by another company, merging with another organization, or renaming or rebranding your business. This is information that you want current customers and even future customers to know. Having this at the top of your website when someone visits is a good place for this type of message.
When news like this happens, customers usually have a lot of questions... so a link to an FAQ page, blog article, or a landing page with a video of your CEO explaining what this means for your customers should be included in your banner notification.
In this example, The National Biodiesel Board utilized the top banner notification bar to announce its new name and new brand.
The message at the top of their site states: "The National Biodiesel Board (NBB) is now Clean Fuels Alliance America. Learn more about our expanded mission". They also included a link to their new website (cleanfuels.org).

Announce New Products or Product Updates
Whether you are launching a new product line or releasing updated features to an existing product, a notification bar is a great way to let your customer know.
For SaaS companies, this may be an appropriate place to share a new version of software being released.
In the example below, Slack uses the notification bar to announce new platform features while encouraging visitors to learn more. Notification bars are extremely effective when it comes to this type of announcement and will help drive visitors to a landing page dedicated to your new or updated product.
This message says: "Slack is your digital HQ. Meet the new features keeping teams connected in a work-from-anywhere world. Let's go."

Share Company Responses to Major Events

Whether it is a natural disaster like a hurricane or a worldwide pandemic, banner notifications give companies a way to let customers know what their intended response protocol is after one of these major events.
This is especially useful for companies that have a high demand after one of these events. After hurricanes and other natural disasters, insurance companies see a huge spike in claims. As an insurance company, you want to make sure your customers have all the information they need to file a claim. Chances are they are already dealing with a lot of stress, so adding a notification alert with a link to a landing page with all this information is a great way to ensure they see this info.
Shortly after Hurricane Ian, USAA added a notification message to the top of their homepage so that when customers landed on their site they knew exactly where to go and what to do.
The message they added to the top of their site states: "USSA's Response to Hurricane Ian. We're here to help those affected. Learn more." Simple and to the point and also includes a link to a landing page that informs people what to do after disaster hits.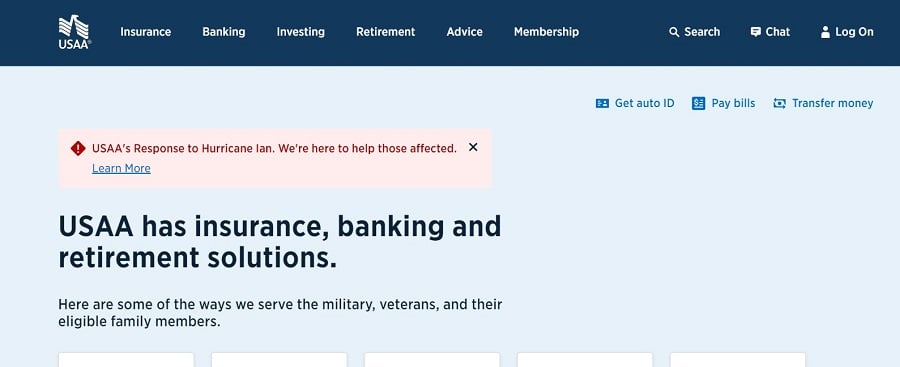 Promote an Upcoming Event
If your company is hosting an event, whether it is an in-person or a digital event, registration is typically required.
When visitors land on your site, a banner notification that highlights your event can lead to more registrations. Including information like when registration closes provides a sense of urgency, especially if you can integrate a countdown with the time left to register.
This is also useful for webinars as well as for conference registrations. In this example, Vyond, the video animation tool, uses the top bar notification to encourage visitors to register for their Storytelling Masterclass.
This message reads, "Join the Storytelling Masterclass October 12, 10am Pacific. REGISTER NOW."

Inform Customers of Office Closures During the Holidays
If you are a business that has a physical location that is visited frequently by customers, then notifying them of office closures is important. In a content management system like Sitefinity, you can schedule a banner notification that alerts customers of office closures to display on your website a few days before the holiday and then have it automatically unpublish when the holiday is over, and your offices are back open to the public.
In this example, First Southern State Bank has a banner notification set up to let customers know that their offices will be closed for Columbus Day.
It reads, "All offices of First Southern State Bank will be CLOSED on Monday, October 10, 2022, in observance of Columbus Day."

Utilize Banner Alerts in Your Portal
Another great place to have banner alerts and notifications is in customer support or company portals. There are always important announcements that need to be made, some more time-sensitive than others. A banner notification bar at the top of the portal when someone logs in is a great place to share important company news, system downtime, shipping-related info, or emergency alerts.
In this example, one of our clients wanted to easily share time-sensitive information that impacted their customers. This was done by creating a banner alert in their portal. You can read more about this portal project on our blog.
The message is informing customers that the payment system is currently unavailable and provides a link to get more information. The link is blurred out in the example below since this was for demo purposes and the payment solutions provider wasn't actually unavailable at that time.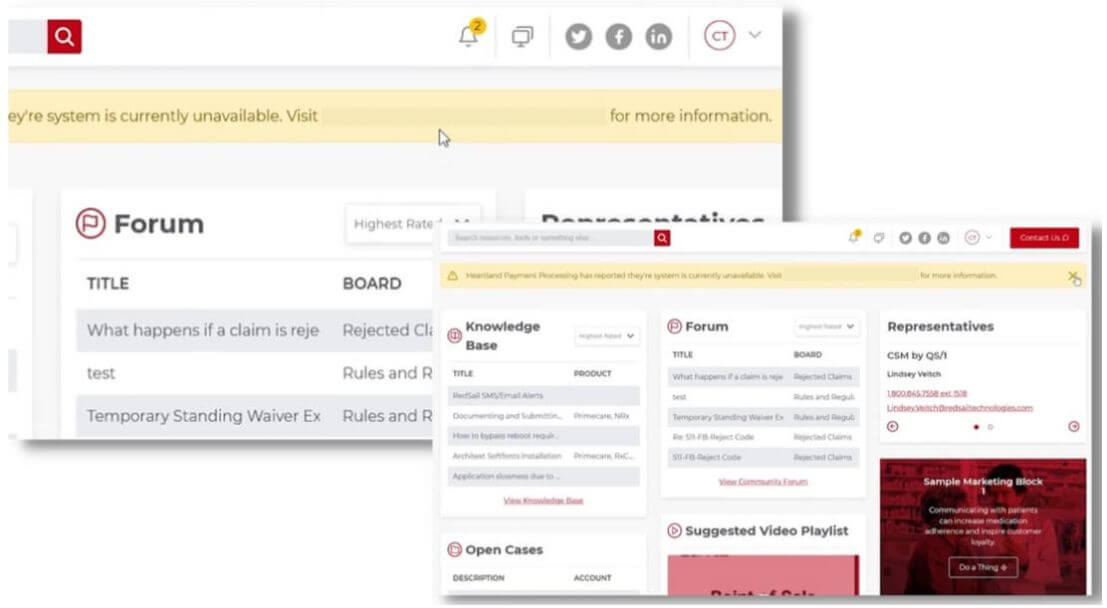 There are many use cases for banner notifications, and they are a great way to communicate with customers and other website visitors. If you want to learn more about how you can implement banner notifications on your website, please reach out to our team.
If you have a website built on Sitefinity CMS and would like to add a banner alert bar to the top of your site, then we can work with your team to design and develop a custom widget that makes it easy to create new banner notifications and will give you the option to publish and unpublish your notification bar on specific dates. You can see this in action in this Sitefinity Minute video titled, Adding Banner Alerts and Messages to Your Site.