The RedSail Hub: An Award-Winning Portal Built on Sitefinity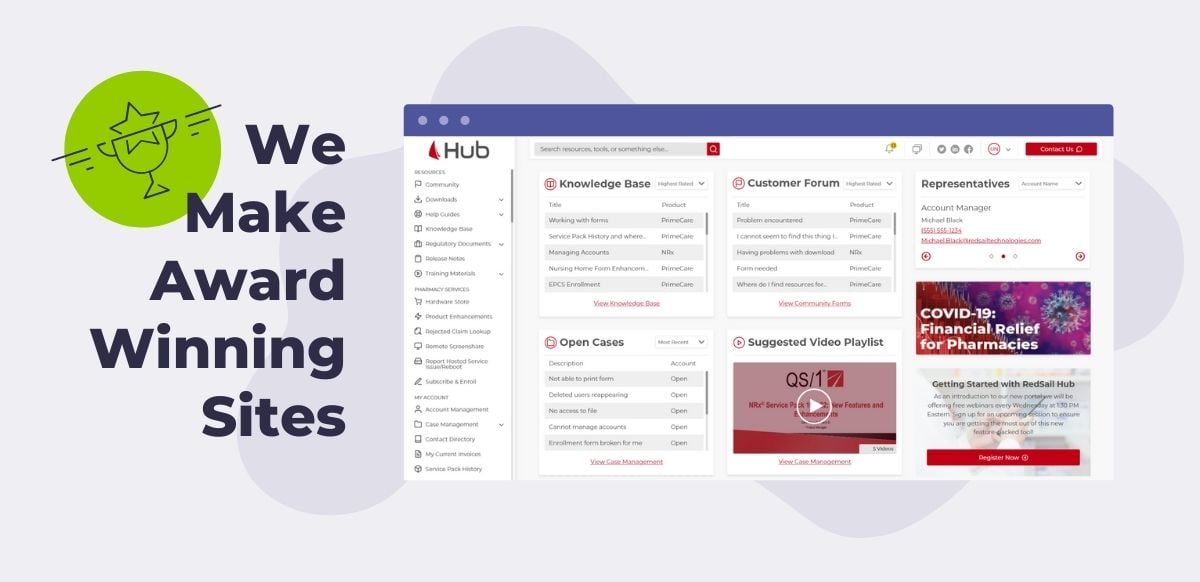 Every year, Progress hosts its Sitefinity Site of the Year Awards to recognize websites that have pushed the limits when it comes to providing a great digital experience for customers.
This past year, Smooth Fusion partnered with RedSail Technologies to build the RedSail Hub, a modern customer support portal built on the Sitefinity CMS platform. Recently, this project was awarded the 2021 Sitefinity Site of the Year award in the portal category.
RedSail Technologies is the parent company of two major pharmacy software brands, QS/1® and Integra®. They also have a third software brand, PUBLIQ®, which serves the public sector.
The ability to serve many different customers across brands can be difficult for a company, especially when there are separate support sites for each brand. When support sites are scattered throughout an organization, it makes them harder to maintain from both a content and infrastructure standpoint which puts stress on both marketing and IT teams.
RedSail Technologies experienced these familiar challenges and needed a web portal solution that brought together all brand sites onto one CMS platform with features and capabilities to help their marketing and IT teams be more efficient while also providing the best user experience possible for their customers.
They were also looking for these features in their new support portal:
Self-serve case management
Enhanced search functionality
SSO (Single Sign-On)
Interactive customer forum
User management
Alerts and notifications
Why Sitefinity CMS for their portal foundation?
There were several reasons why RedSail Technologies decided to go with Sitefinity to build their new portal solution including multisite, ease of integration, and ease of use.
Multisite
Sitefinity's Multisite feature allows large organizations with multiple brands like RedSail Technologies to consolidate websites to one CMS platform. This means a simpler infrastructure for IT teams to maintain and one place for marketers to create and publish content.
Ease of Integrations
One of the most important components of a web portal is having the ability to integrate with other tools. This is because most support portals pull in customer information from a CRM (Customer Relationship Management) or sales system.
When needing to integrate your website or web solution with third-party applications and business systems, Sitefinity is the way to go. Sitefinity has out-of-the-box integrations and connectors or also allows you to develop an integration with any business system or application you need to connect to.
Ease of Use
Another reason Sitefinity was chosen for this project was because of how easy it is to use for marketers and content editors. Being able to create and manage content and then easily publish that content to multiple websites with the push of a button was critical for the efficiency of the marketing team.
Why Smooth Fusion?
Smooth Fusion was chosen for this project not only because of our decade-long experience with Sitefinity CMS, but also because of our solution-based approach to design and development and our ability to customize and extend the capabilities of Sitefinity.
A Successful Portal Implementation
Not only was the design, development, and implementation process a success for the RedSail Hub ortal project, but after the launch the RedSail team saw drastic improvement with internal processes and cooperation across marketing and IT teams.
The IT team is no longer burdened by the maintenance of multiple sites and instead can focus on other projects that improve the software that is vital for the continued success of their organization.
The marketing team can now create and publish content easily and spin up new pages and other marketing and sales materials that need to get in front of their customers without any help from IT.
Redsail's customers were a core reason for revamping their support portal experience. The RedSail Hub has allowed their customers to be more efficient by giving them one place to find everything they need to be a successful pharmacy with RedSail's technology and software solutions.