Why You Should Upgrade Your Sitefinity CMS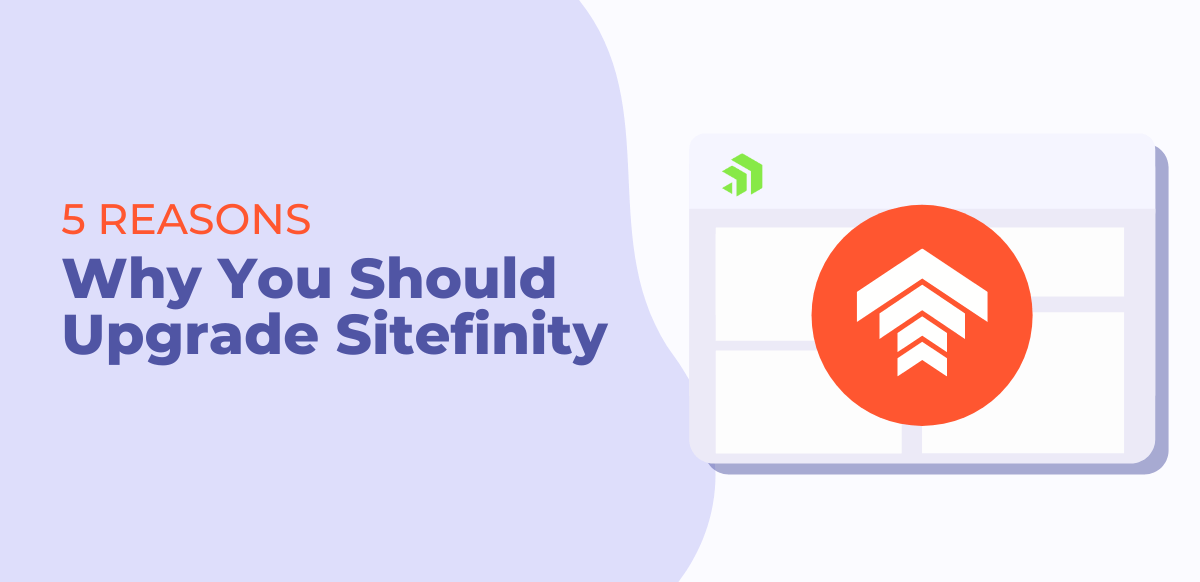 There are a handful of reasons why upgrading your Sitefinity CMS is a good idea but in this video, we will cover the 5 reasons why we think it is important to upgrade to the latest Sitefinity version release.
In this Sitefinity Minute, we are going to cover 5 Reasons Why You Should Upgrade your Sitefinity CMS.
Reason #1: Get Sitefinity's Security Improvements
The first reason to upgrade Sitefinity is to take advantage of security improvements.
If a hacker figures out how to get into your site from a vulnerability in one CMS version, upgrading may cause them to start from scratch because it is a new version and your site is now protected with any security patches that were released with the upgrade.
Reason #2: Get the Latest Bug Fixes
The second reason for upgrading your Sitefinity CMS is to get the latest bug fixes.
Bugs are reported and fixed between version releases. Staying on the latest version of Sitefinity ensures your CMS has limited bugs.
Reason #3: Get the Latest and Greatest Features of Sitefinity
The third reason is to take advantage of the latest and greatest features released with Sitefinity.
If you are on a version earlier than 13.3 then you are missing out on a lot of great features and capabilities, but no version is better than the latest. At the time of making this video, Sitefinity 14.1 is the latest version, which includes .NET Core, more integrations with other platforms like digital asset management systems, added personalization capabilities, and other features that establish Sitefinity as an emerging leader in the digital experience platform market.
Reason #4: Save Money by Upgrading Your Sitefinity Website
The fourth reason is cost savings. Although it costs money to upgrade to a new version of Sitefinity, there are also costs that arise from a website on outdated software. Whether it is dealing with the fallout from a security breach or paying a developer to patch issues, these costs can add up quickly.
And with new technologies offered in newer versions like the .NET Core Renderer, you can rely less on developers to create custom layouts for pages since .NET core provides more flexibility for marketers and content editors when building out pages.
Reason #5: Overall Improvements to Sitefinity CMS Performance
The last reason you should upgrade Sitefinity is for overall better performance.
Newer versions of software are generally faster on both the backend and the frontend and because site performance is a key consideration for search engine ranking and is key for a good user experience, you should strongly consider upgrading your Sitefinity CMS and making sure it is always on the latest version release.
If you are looking to upgrade your Sitefinity website to the latest version, then reach out to our team to learn more about the upgrade process.
And that's the Sitefinity Minute.