How to Improve Your Website in 2022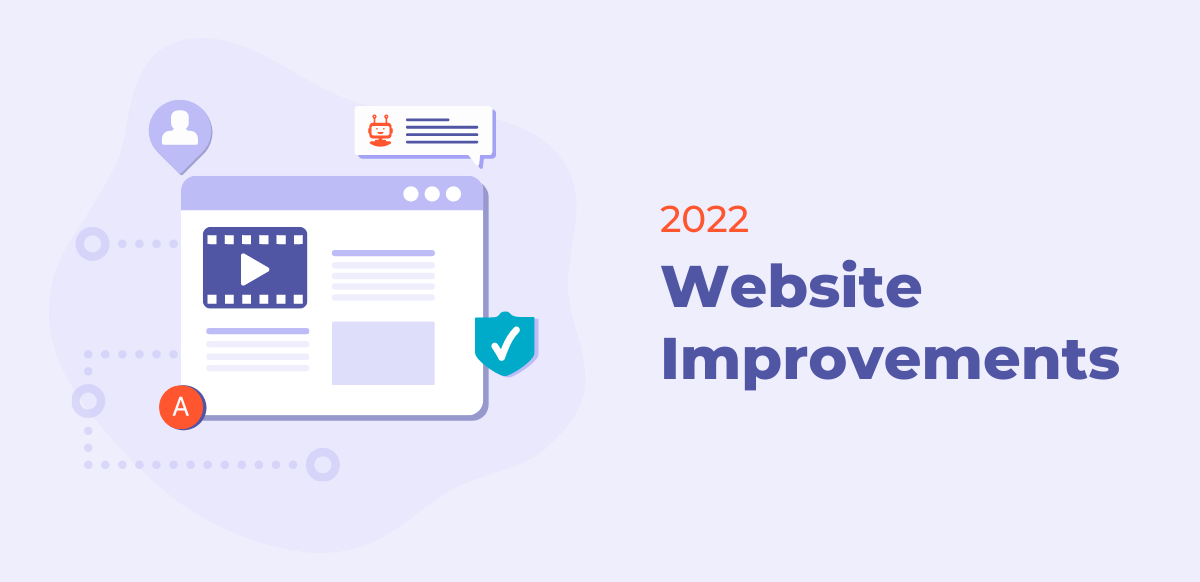 This past year your company has fully embraced digital transformation and your marketing team has been tirelessly trying to improve your website to take on the increased demand for digital customer experiences.
Websites aren't just a marketing statement piece, they have become a core component in the overall experience you provide your customers.
Organizations that understand this and embrace the transition from static websites to modern, scalable, and powerful digital experience platforms, will be equipped to handle the shifts in technology and the demands of digital-first consumer engagement.
In this article, we provide a list of website initiatives and tactics that align with modern website technology and capabilities that will help your company create better website experiences for your customers in 2022 and into the future.
Here is a list of 14 ideas for improving your website this year:
Understand Your Website Features and Capabilities
Knowing what you need to improve upon is the first and logical step to improve your website.
It is important to understand the platform your website is built on, which is called a CMS or content management system. Is it on an open-source platform like WordPress or Drupal? Is it on an enterprise-level platform like Sitefinity or Kentico?
Once you identify the platform, look at the features and capabilities that are included in your license. Once you determine what is included, you can take an inventory of the features you are using and which ones you aren't. As an example: If you are already paying for a feature like personalization, then taking advantage of this is something that should be a high priority for 2022.
If your website platform doesn't offer a lot (especially features that support the tactics in this article), then you might look at upgrading your site edition/version or moving your website to a new CMS.
Integrate with Third-Party Apps and Business Systems
When your website is integrated with other businesses systems like a CRM, it allows you to share and use valuable customer data across platforms. Integrating your website with third-party applications extends the functionality of your site and gives your company more insights that help marketing, sales, and customer support teams.
Websites are more than a marketing piece, they are key components in the overall digital experience you provide your customers. The digital ecosystem that powers these digital experiences is often called a digital experience platform or a DXP, and a DXP isn't possible without the ability to integrate.
Create Unique Site Experiences with Personalization
If you have not done any type of personalization, then 2022 is the perfect year to start. It can seem overwhelming, but just start small with a marketing campaign landing page then start taking steps to personalize several other pages like your homepage and product pages.
"80% say they are more likely to do business with a company if it offers personalized experiences." (Forbes)
This includes personalized offers on products and services when a visitor lands on your homepage.
Something important to note is that good customer data is a vital component of successful personalization. To serve up content that you know your site visitors will be interested in means you need to know about your customers.
An example of this is in a blog article and video we did on how to use HubSpot CRM to personalize page content on your Sitefinity CMS website.
A CRM like HubSpot, which stores all types of valuable customer data, can be used to create personalized experiences for site users.
Understand Page Performance with A/B Testing
As marketers, we are usually pretty good at knowing what our customers prefer, but we should never be taking a wild guess at what they prefer, it should be based on results. These results are known with A/B testing.
Testing multiple versions of a webpage with different layouts and content will help provide your team with valuable feedback that will help to improve future marketing campaigns.
Look at the metrics for each page version. Evaluate the usual metrics like the average time a user spent on the page, bounce rate, and scroll depth, but also look at how well the page converts.
Conversions could be a form submission or a CTA to another piece of content on your site. Whatever the conversion is, A/B testing helps decide which page will help your business get more of them.
Make sure that your page has different page titles, descriptions, headings, and CTAs. The key is to make the pages different enough so that there is a clear distinction between them.

Keep Your Customers Informed
Companies have found it increasingly difficult to keep their customers informed. Emails are overrun with spam, social channels are too noisy, and customer service teams are stretched thin.
Creating a place on your website specifically for customer communications is an effective way to solve this problem. And an even better way to improve communication is with a customer portal.
Customer portals can be accessed through your site and are one of the most effective ways to keep business-critical information right in front of your customers.
Some other ways to help your customers stay informed about your business are by using web banner notifications for business hours and closures, new operation procedures, or important company news. For more urgent matters, like shipment delays or product cancellations, you can use automated text notifications.
Discover Headless Website Capabilities
It is not only websites that companies are developing but also apps, mobile sites, digital displays, and other custom digital solutions. In a headless CMS, content is separated from the presentation layer and delivered via an API, which gives the flexibility to publish content and display it across multiple platforms and devices.
Unlike a headless CMS, traditional CMSs were built to manage and display website content, but when it comes to pushing this content out to other digital platforms, it fails to deliver. This is why companies are choosing the flexibility that a CMS with headless capabilities offers.
One benefit of a headless CMS for marketers is content does not have to be duplicated across multiple platforms or applications, it can be managed and published in one place, which creates one cohesive digital experience across your organization.
Improve Your Website Performance
If you want to improve site metrics, like increasing the amount of traffic to your site and your ranking in search results, then you need to focus on website performance.
You will need to look at your entire site infrastructure, from hosting to the front-end user experience.
Your hosting solution should fit the needs of your site and accommodate both traffic and the size of your site.
User experience on the front end of your site is another thing to consider. One important factor is page load speed, which can be affected by code, images, and third-party integrations.
One way to understand how well your site performs is by getting an SEO site audit. A site audit will measure speed and performance while uncovering critical issues that are slowing down your site. If your site has never been audited, then 2022 is your year to see where your site stands.
Reinforce Your Commitment to Privacy
Privacy has been a hot-button issue in the news for a few years now and it is something that will always be important.
In 2022, your company should revisit how it handles customer data.
Not only should commitment to privacy be a best practice for your business, but it is important to check if your company is adhering to privacy regulations and laws like GDPR.
GDPR doesn't only apply to businesses inside the EU but any business that has the personal data of an EU citizen. According to the GDPR compliance laws, "if you collect any personal data of people in the EU, you are required to comply with the GDPR."
If you are a company in the US, then you can take these steps to ensure you are compliant with GDPR.

Some questions you need to ask are what type of customer data do we collect through our site, where is this information stored, and are we following all privacy best practices? Revisiting how data is handled will set your company up for a privacy-conscious future.
Get Serious About Website Security
According to PatchStack, "On average 30,000 new websites are hacked every day."
There are several ways that a website can get hacked. Some of them include weak points of access like not enforcing strong passwords or two-facture authentication; CMS vulnerabilities like not updating to the latest version or foregoing necessary security patches; and integrating with third-party services or plugins that do not enforce their own security best practices and policies.
It is simple. Do not wait to be hacked to get serious about website security—start the process of prioritizing security now.
Ensure Your Site Meets ADA Compliance
ADA Compliance is nothing new. One in four adults in the US has a disability with 5.9% of people having a hearing impairment and 4.6% having a vision impairment.
What does this mean for your website? You need to make sure your website is accessible to all people.
For those with hearing impairments, any video or audio on your site should also include subtitles or a script that those with hearing issues can read.
Since websites are very visual, it is also important to consider how someone with visual impairments consumes the information on your site.
For example, users who are colorblind have a tough time distinguishing between colors, so the appropriate use of background and foreground colors is something that needs to be considered. When overlaying text on images or other background colors, it is important that someone who is colorblind can easily read, or else they may move on to a different site.
Create Customer Journeys with Touchpoints
Stop looking at your website as a collection of pages and start looking at it as a collection of touchpoints—a series of actions that users take to get to a desired goal.
One way to achieve better customer journeys is to get customer journey mapping software. One that we use is Sitefinity Insight. It allows us to set up touchpoints; track, and analyze customer behavior on our site; and personalize pages for specific personas.
Utilize Chatbots for Better Customer Experience
Chatbots have come a long way since they were first introduced and with customer service teams trying to keep up with increased customer demand with a smaller staff, chatbots have shown themselves to be lifesavers for many companies.
Even the most basic chatbots today can help direct users to the right person or information they need by using AI technologies.
"By 2024, Insider Intelligence predicts that consumer retail spend via chatbots worldwide will reach $142 billion—up from just $2.8 billion in 2019." (Business Insider)
Many businesses are already turning to chatbots as demand has increased for 24/7 customer support.
The primary reason people said they would use a chatbot is to get a quick answer during an emergency. But as machine learning and natural language processing improve, businesses will look to chatbots to help their customers with all types of customer service-related questions.
Create More Interactive Content
If we have learned anything from social media, it is that people like to be entertained. An example of this is LinkedIn gives users the option to add a poll to their post, which has been a popular tool that allows marketers to poll their audience directly from the platform. One powerful way to engage and entertain visitors to your website in a similar way is with interactive content.
Interactive content on a website is any content that a user can actively engage with. This includes polls, assessments, quizzes, games, and interactive infographics. Interactive content not only allows users to consume information in a fun and creative way, but it helps make your brand's content stand out.
For one of our clients, we created a page that supports U.S. Farmers. Instead of just adding a bunch of static infographics, we worked with their team to create interactive infographics that users can engage with on the page.
Add More Video to Your Site
Find ways to incorporate video on your website.
Video continues to be an effective way to share information. Instead of just listing product information, you can create a short video that highlights product features.
Ask yourself, "Would a video of our product or service help our customer understand it better?" If the answer is yes, then get a plan together before 2022 to create a series of short product videos for your website.
2022 is the Year to Improve Your Website
The truth is that your website could be turning customers away instead of helping you retain and attract new ones. Many companies wait till they're in crisis mode to make their website a priority. Instead, companies need to be proactive and make website improvements on a regular basis to stay competitive.
There are a lot of ways to improve your website this upcoming year and these are just some of the ways you can do that. If you are looking for a new CMS or need ideas on how to improve your website, then
reach out to our team
.