Top 10 Sitefinity Blog Posts of 2020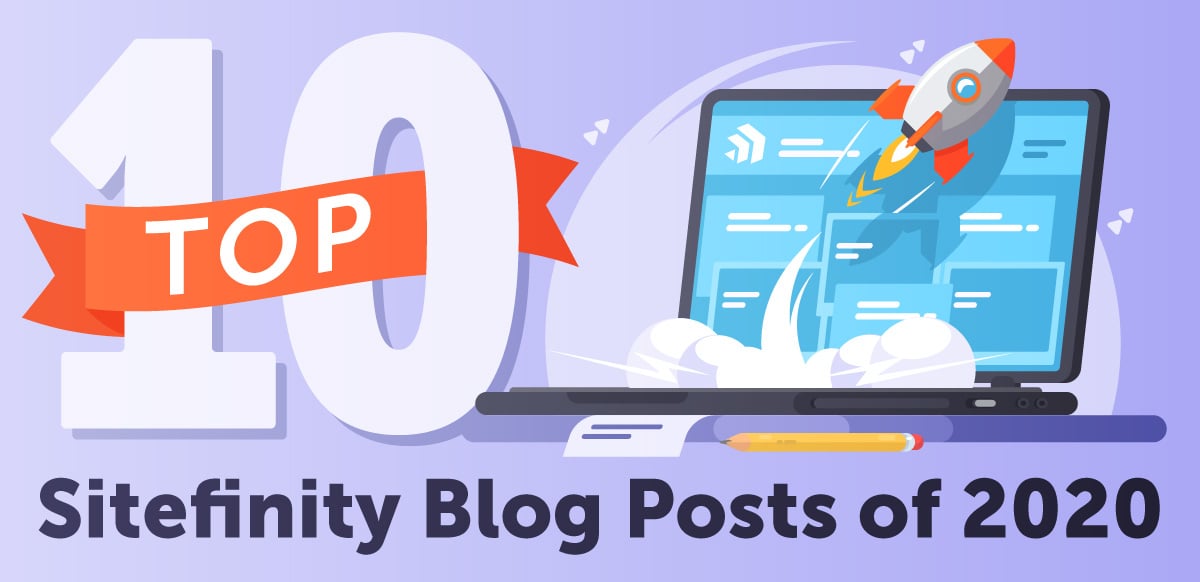 One of our main objectives as a web development company specializing in Sitefinity CMS is to provide helpful information, tools, and resources for users of Sitefinity. In 2020, we wrote more blogs posts about Sitefinity than ever before covering diverse topics that help organizations of all sizes improve their websites on the Sitefinity CMS platform. Here is a list of our most popular Sitefinity blogs from 2020.
1. Sitefinity v.13 PDF Tutorial
Sitefinity 13.0 was released in May 2020 and with every new release, Smooth Fusion puts out a tutorial to help marketers get the most out of Sitefinity. You can download the latest Sitefinity tutorial or read this blog that features our version 13 Sitefinity PDF tutorial.
Sitefinity version 13.3 was just released (March 2021), so our next Sitefinity Tutorial will be for version 14. Until then, if you are looking to upgrade to the latest version then read about all the benefits of upgrading to Sitefinity v. 13.3.
2. SEO Guide for Sitefinity
SEO remains a top priority year after year and marketing teams are constantly trying to find ways to outrank their competitors in search engines. In our SEO Guide for Sitefinity, we dive into the three types of SEO, why they are important, and how to implement these SEO tactics on your website.
3. Your Sitefinity Website is Your Most Important Business Location
This blog post provides an interesting perspective on a website, treating it less like a marketing piece and more as the cornerstone for the overall digital customer experience. It views a website as an asset that integrates with other business systems and grows as you grow, not rebuilt or replaced every few years. This article is an introduction to a digital experience platform — or for short, a DXP. Read why your Sitefinity website is your most important business location.
4. Best Practices for Hosting Sitefinity in Azure
As one of the first web development companies to host Sitefinity sites on Azure, we've learned a thing or two that we wanted to share. Your hosting solution is a big deal because a site that is constantly down and runs poorly means a bad digital experience for your customers. In this blog, we shared tips and tricks for hosting a Sitefinity site in Azure.
5. Best Practices for Building a Page in Sitefinity
This is not only a blog post, but a series of videos that show how to build a page properly in Sitefinity. One of our Sitefinity Certified developers takes viewers step by step into the page building process and reveals some of our development best practices at Smooth Fusion for building pages in Sitefinity so that it is easy for marketers and editors to spin up new pages of content.
6. Google Tag Manager and Sitefinity
This article is helpful for marketers looking to improve how they gather data on their website. Tag Manager allows you to deploy tags to your site without having to get into the code.
You will learn what Tag Manager is, why it is important and how you can implement tags easily on your Sitefinity website. Learn how you can get the most out of Sitefinity data with Google Tag Manager.
7. Personalizing Sitefinity with HubSpot Video Series
One of my personal favorites is this article and video series we put together showing how you can personalize your Sitefinity website with the data in your CRM, like HubSpot.
Although we offer third-party integration services for Sitefinity, something like connecting your HubSpot CRM to Sitefinity can be done by most with little technical expertise and this video provides a DIY approach for this.
8. Sitefinity Features that Marketers Love
When deciding on a new CMS for your organization, your marketing team (or at least someone from marketing) should be involved in the decision-making process. Why? Because they are typically the ones spending a lot of time in the CMS. This article talks about the features of Sitefinity that are important for marketing success.
9. How to Improve Your Sitefinity Site While on a Budget
Early in the pandemic, we released this blog post which shares ways to improve your Sitefinity website even if your budget had been cut. Some of these improvements are tasks that fall under regular maintenance of a Sitefinity site like applying security patches, version upgrades, and keeping your license up to date – but there are other budget-friendly tips to take advantage of, like making sure you understand and utilize all the features of Sitefinity that are available in your current license.
10. Google Data Studio and Sitefinity Insight
If data is important to your organization and marketing efforts, then this is a good one to read. This post also has a video, so you can see a real-life example of the set-up. Google Data Studio connects to a data source, pulls in the data, and displays it on a customizable dashboard or report that you can easily send to clients or your marketing/sales team on a reoccurring basis.
Sitefinity Insight captures audience behavior and data from your website but sharing, customizing, and consolidating key data points into one report can be challenging, which is why connecting Sitefinity with Google Data Studio can be a powerful data tool for your team.