Sitefinity .NET Core Site of the Year Award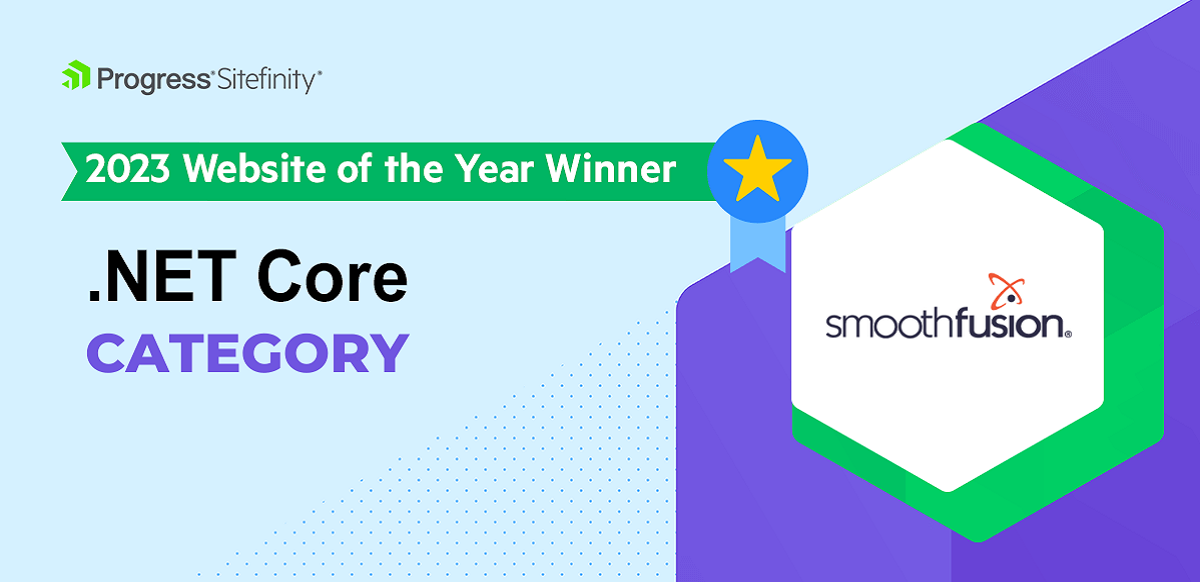 We are excited to announce that our very own website, smoothfusion.com, has won the 2023 Sitefinity Site of the Year Award in the specialty category for .NET Core.
As the first Sitefinity Partner to migrate our website to .NET Core, we have gained valuable experience that will benefit other companies who want to build their website with .NET Core.
We always want to encourage our clients towards solutions that we ourselves have tried and solutions that have proved to be successful on previous projects. With the benefits we've experienced during the process of rebuilding our site on .NET Core, we are excited to offer this new technology to our customers so they can experience the same benefits.
.NET Core is the future of the Sitefinity platform and is the recommended approach for new website builds. Being recognized for our work with .NET Core as a Sitefinity Partner is an achievement we do not take lightly. It's important for several reasons.
This award recognizes our ability to:
Efficiently build a website on .NET Core
Transition pages built with MVC to .NET Core
Maintain overall styling and design consistency
Maintain site functionality and user experience
Adapt application architecture and hosting configurations to accommodate the new renderer
Challenges That Come with Implementing New Technology
Challenges are inevitable when switching to any new technology and we knew that being the first partner to move our site to .NET Core would invite unique obstacles that our team would have to overcome.
As a website development company, having the confidence to take on challenges like this one is crucial to the work that we do every day. This is because, at our core, we provide our clients with digital solutions. Our clients come to us with complex software use cases and website issues, and we deliver innovative solutions that solve their problems and improve the digital experiences they provide their customers.
Being the first partner to take on this project has given our team experience, revealed some of the common challenges that companies may encounter when implementing .NET Core, and equipped our team to provide solutions that have been shown to be successful.
Thinking About Building Your Sitefinity Site on .NET Core?
If you are considering building a new site on .NET Core or are interested in learning more about the slower transition approach that we took, then reach out to our team. We can set up an initial call that helps our team understand your goals, current site pain points, and technology while giving you an opportunity to ask our team any questions about Sitefinity, .NET Core, and our processes when it comes to the discovery, design, and implementation of website projects.