Pursuing a Career in Tech and Web Development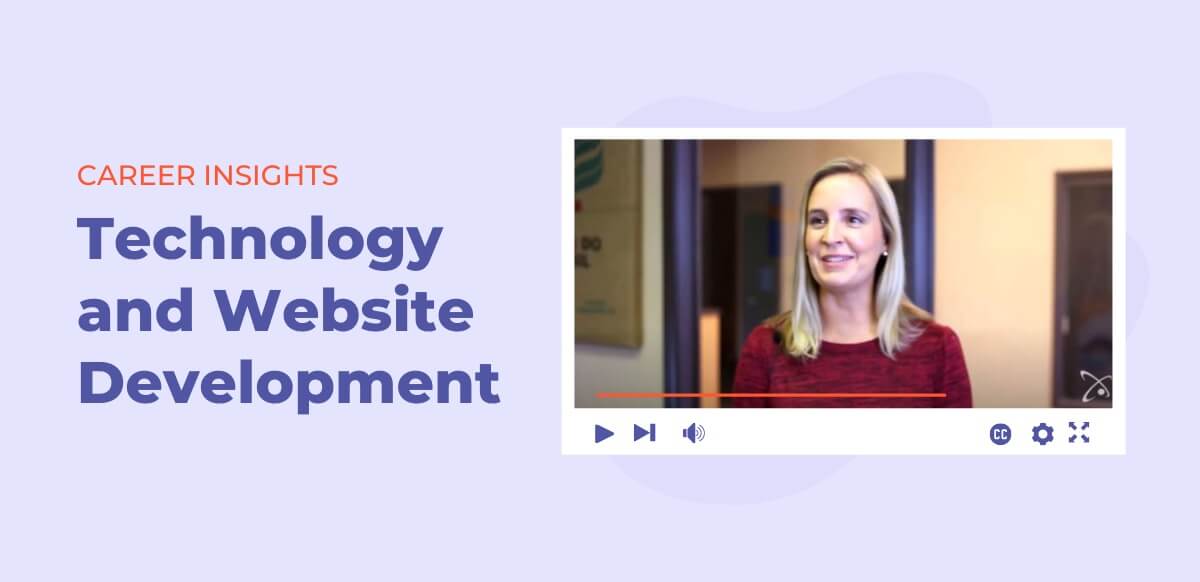 Our Vice President of Development, Janae Allen, sat down to talk about her career in technology and website development. She talks about how she got her start in the tech industry, her career throughout the years, and advice to those looking to get into a career in technology.
Janae currently manages a team of developers and has been at Smooth Fusion since 2005. She has worked on projects for Microsoft, Intel, Dupont, Welch's, Johnson & Johnson, Samsung, and many other brands. She's architected and built sites on Sitefinity CMS, custom .NET applications, custom JavaScript applications, integrations with proprietary systems, and other web-based software systems.
What do you do in your role as VP of Development?
I work with our team to capture requirements prior to beginning a project. These requirements are both business and technical requirements. I also manage a team of developers. I am there to help them with whatever they need during the implementation phase of a web project, whether that is technical assistance or helping them gain access to the tools they need to help them work efficiently.
What do you love about working in website development and technology?
One of the things that I do love about working with website applications and in this industry is because things change so quickly, you are always learning something new. You get the challenge of either using the same technology that you have been doing but making it better or learning new technology.
Did you always know you wanted to work in technology?
So, growing up I always loved doing puzzles and figuring things out and I feel like I still get to do that in my job today because I am always trying to figure out whether to improve something or just a new way to do things.
So, I did not always know that I wanted to be in technology whenever I was in high school though I took computer science classes. Of course, the internet was still a baby back whenever I was in high school so we didn't really do any web applications, so on my own time I had my own personal website, had a guest book, and you know all the silly things that you had whenever websites were new back in the 90s. I really enjoyed that I enjoyed having the control to layout the page however I wanted to make it look the way that I wanted and so that really interested me.
What was your major in college?
But whenever I went to college, I didn't study computer science and was first in civil engineering and architecture because I had a dream of building homes, building bridges, or city planning but as I got into that, and I was on my own time working more on websites and realized how much I did enjoy that.
So, I switched my major over to computer science while I was in college.
Tell us about your first job out of college? How did you use your computer science degree?
I had an internship with IBM and really got involved and saw how I could use my computer science degree and what that looked like.
That was a good experience for me because IBM is so big you could see all the different ways that computer science could be used. I got involved at IBM more in the QA side of things, so testing applications and understanding how you had to look at an application. Seeing all the different ways that it could be tested and used by the end-user.
That helped me be able to analyze even websites now to see okay if someone comes to this site and they use it this way are we going to make sure that the site still works, handle the errors, handle the usability of it.
When did you start in your role at Smooth Fusion?
As I was at IBM, I got really good experience doing that, but I missed home and wanted to move back to Lubbock to be closer to family. So, I was really excited whenever I heard about Smooth Fusion and that I could come back home be closer to family but still get to be involved in web development.
What advice would you give to someone who wants to get into website development or technology?
The advice that I would give to somebody who wants to explore a career in technology is to be willing to work on it on their own time. There is only so much that you can learn in a classroom but there are YouTube videos out there, there are tutorials, and really getting your hands dirty and building your own site is the best way in my opinion to become familiar with the technology and figure out ways that it can be used.
I think my time whenever I was younger, building my own website using notepad and typing out HTML really has not only given me an appreciation for the tools that are available today but it helped me understand how this works so that is what I would recommend.