Sitefinity DX 14: New and Improved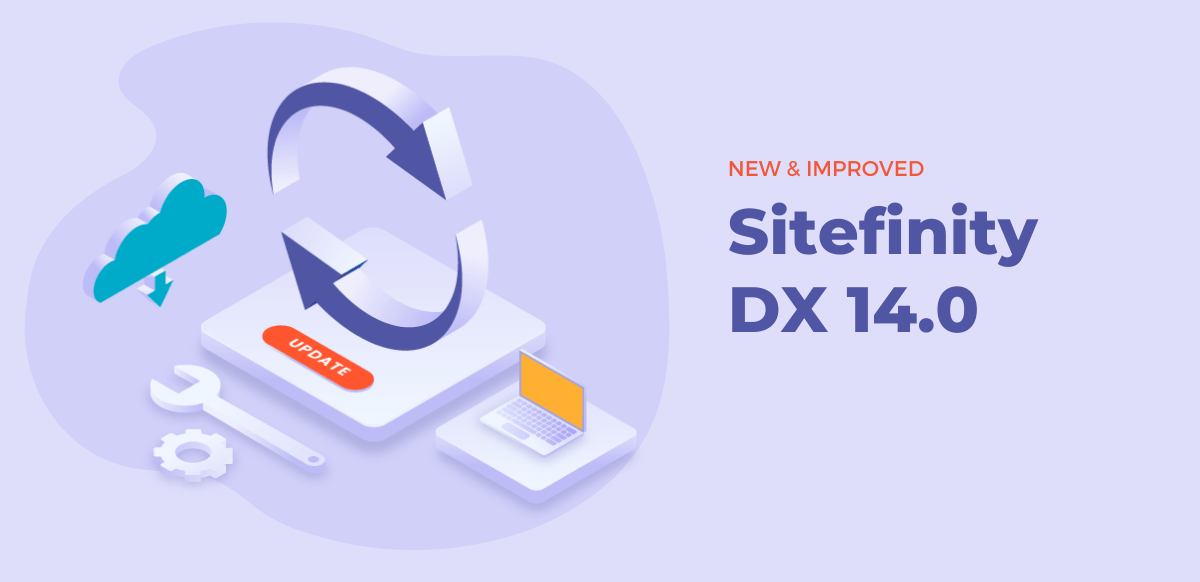 Sitefinity DX 14 has officially been released. This release isn't just another version release but is the introduction of a redefined Sitefinity, one that has evolved over the years to become a leading digital experience platform.
Integration via Service Hooks
Sitefinity has always made it easy to connect to 3rd party applications, but in version 14 Progress has introduced service hooks which makes integrations even easier.
A service hook allows for low-code integration with other 3rd party services when business events occur on your site. Supported events include form submissions, blog post publication, document deleted, and so on.
These events serve as triggers to send data to third party tools and services like Zapier, Microsoft Power Automate, or even custom end points. From there, it is easy to integrate with hundreds of common third-party systems through existing connectors.
Easily Add a Chatbot to Sitefinity
In Sitefinity DX 14, users can add chat bots directly to a page with the NativeChat widget.
NativeChat is a cognitive chatbot development platform that uses AI technology, personalization, natural language processing, cognitive flow, and other features that help businesses engage in conversational marketing and provide a more efficient process for customer support.
NativeChat comes with a variety of templates that cover common chat scenarios. After creating your bot in NativeChat, it is easy to add the chatbot to your Sitefinity site.
New Sitefinity .NET Core Renderer
For a truly decoupled CMS experience, Sitefinity is releasing the new Sitefinity.NET Core Renderer with Sitefinity DX 14.
A decoupled CMS separates the front-end and the back end of your website. The .NET Core Renderer is its own application and renders the front-end of your site, while the back-end Sitefinity CMS administration is on another application.
This structure comprises Sitefinity's three-tier architecture with tier 1 hosting the database, tier 2 hosting the backend, and tier 3 hosting the .NET Core Renderer or front-end.
Utilizing a three-tier architecture has many benefits including increased performance, reliability, and scalability with less effort when upgrading Sitefinity and faster set-up and deployment.

Improved Tracking of YouTube Videos
Sitefinity DX 14 has better integration with Sitefinity Insight to track YouTube video views. This was available in past versions, but the process has been made much simpler, requiring the user to only add a video to a page.
Here are all the video tracking engagements that will be captured in Sitefinity Insight.
When a user plays a video on a page then the interaction will be tracked.

Only one interaction will be tracked, even if someone pauses and plays the video again.

You can t

rack how long someone views a video which is defined with the following length of time percentage thresholds:

Watched 25% of video

Watched 50% of video

Watched 75% of video

When a user watches the entire video

Captures data when someone finishes a YouTube video
No interactions are captured for someone who passes a threshold
For someone who skips portions of a video, Insight will only capture the amount of time of actual watched video
If someone watches a video and then plays it again, nothing will be tracked
See all the details in the Sitefinity Insight documentation.
New SiteSync Capabilities
In previous versions, when publishing and syncing minor edits to page content, you have to sync an entire module or site with the SiteSync module. In Sitefinity DX 14, content editors can now sync individual pages or items.
You can also sync content that is in different editorial states like unpublished or published, scheduled for unpublish or publish, draft, in approval workflow, or items with a locked status. These items can be synced either individually or in bulk.
Supports Optimized Image Formats
One of the most common reasons for slow page load speed is images with large file sizes. Cutting down file sizes on JPGs and PNGs too much can lead to bad image quality.
Sitefinity now supports the modern image format WebP. WebP is a better option for images on your website because you can provide site visitors a great quality image that has a smaller file size than JPGs and PNGs. And because they are smaller, they load faster too.
Images that load faster will help improve overall page performance and page load times, a critical component for page rank in search results.
Get Sitefinity DX 14.0
We have said this before but it is true. With every new version release, the features and capabilities of Sitefinity are improved, giving Sitefinity users a modern digital experience platform and content management system that can truly grow with their organization.
If you have questions on this newest version or want to learn more about Sitefinity CMS, then reach out to our team of Sitefinity Experts at Smooth Fusion.